Benefits of Holding Inventory
Primarily, inventory is held for transaction purposes. Today's inventory is tomorrow's consumption. An enterprise cannot ensure uninterrupted production unless it maintains an adequate inventory of raw materials. By holding inventories the firm is able to separate the processes of purchasing, producing, and selling. By doing the separation of these functions.
The benefits of holding inventory are: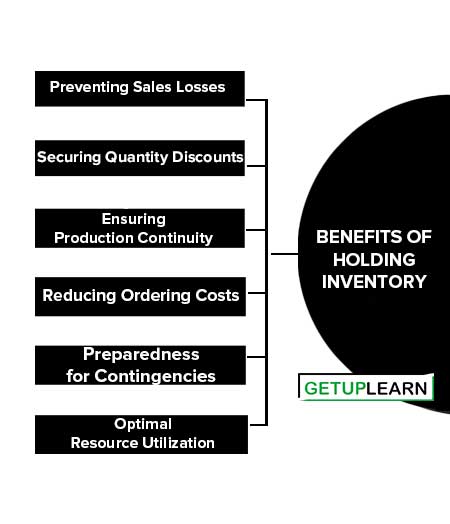 Preventing Sales Losses
Insufficient inventory can disrupt production, possibly leading the company to fail in delivering goods to customers on time, which may result in losing these customers permanently. Quick service and prompt delivery largely depend on efficient inventory management.
Securing Quantity Discounts
By choosing to hold substantial inventory for specific product lines, a firm might be able to make bulk purchases at significant discounts. Often, suppliers offer substantial price reductions for orders that are double or triple the usual size. If the discount outweighs the cost of holding the inventory, the firm can boost its profits.
Ensuring Production Continuity
Insufficient inventory can lead to production interruptions and inefficiencies. It is often challenging to source raw materials exactly when needed. A shortage of crucial raw materials can halt production mid-way, which can be costly for the firm. Hence, maintaining an adequate inventory level is necessary to ensure uninterrupted production.
Reducing Ordering Costs
Each order placed by a firm incurs specific costs. By placing fewer, larger orders instead of many smaller ones, the variable costs associated with each order can be reduced.
Preparedness for Contingencies
Inventory is also maintained as a precautionary measure to account for an increase in lead time or consumption rate due to unforeseen circumstances like supplier strikes, transport issues, short supplies, or large orders.
Optimal Resource Utilization
In a manufacturing concern, production planning aims at the optimal utilization of resources, such as manpower, machinery, and materials. This goal can only be achieved by maintaining sufficient inventory.
---
FAQs about the Benefits of Holding Inventory
What are the benefits of holding inventory?
The following are the benefits of holding inventory:
1. Preventing Sales Losses
2. Securing Quantity Discounts
3. Ensuring Production Continuity
4. Reducing Ordering Costs
5. Preparedness for Contingencies
6. Optimal Resource Utilization.