Characteristics of Financial Services
Generally, financial services have several important characteristics that distinguish them from physical products. The characteristics of financial services are as follows: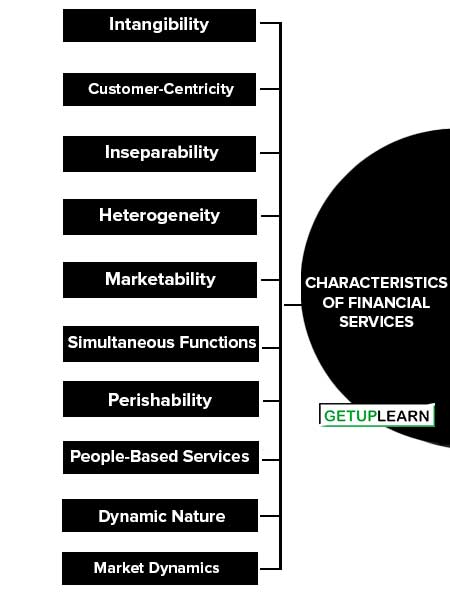 Intangibility
Financial services are intangible in nature, unlike physical commodities. The institutions providing these services should build a good brand image in the public sphere and create confidence amongst their clients.
They have to focus on the quality of their services, which will give them credibility in the market. Nowadays, the tendency to use marketing to make gains has become popular with some financial institutions, which affects their long-term prospects.
Customer-Centricity
Financial services are customer-centric. The financial service industry is a customer-intensive and customer-focused industry. It needs high customer involvement. The financial services industry begins by identifying the needs of its customers. They have to remain in constant contact with their customers to understand their requirements and design products that cater to their specific demands.
A product is manufactured, while a service is not. A financial product is standardized, while a financial service is tailor-made. Financial services cannot be uniform for all clients. Services vary from customer to customer and cannot be standardized. Some services are targeted at individuals, while some are meant for institutions or companies.
Inseparability
The production and supply of financial services must be performed, simultaneously. For example, an individual who wants to have a haircut has to depend on the availability of the barber to avail of the service. The service and service provider cannot be separated. Persons engaged in the same industry differ in the quality of service offered.
Heterogeneity
Firms engaged in providing financial services must be proactive in anticipating what the market wants and reacting to the specific needs and wants of their customers. The market is very dynamic in the financial industry and financial firms have to be innovative and adapt, quickly, to the changing needs of their customers to survive and grow.
Marketability
The marketing of financial services has become intensive at present. Banks did not have marketing teams in the past. Persons engaged in marketing have to be ethical as customers base their financial decisions, on trusting the marketers.
They should have the necessary knowledge and be people-friendly and honest. The concept of a 'relationship manager' has emerged in the banking sector recently, to understand the needs of customers and serve them better.
Simultaneous Functions
The creation of financial services and their delivery have to be simultaneous. They have to be created and delivered to the target clients immediately. Both the functions, i.e. production and supply of new and innovative financial services, are to be performed, simultaneously.
Hence, it is imperative for the providers of financial services to synchronize and ensure a perfect match between demand and supply.
Perishability
Unlike other services, financial services perish, if not used. They cannot be stored and provided, based on the requirements of customers. They have to be supplied as required by the customers. Hence, financial institutions have to ensure proper synchronization between demand and supply.
People-Based Services
Financial services are subject to the variability of performance or quality of service, depending on the persons who render the services. We feel the services of a particular bank branch have deteriorated, in terms of quality, when the desk officer changes and the concerned person renders service impolitely or impersonally.
As a service-oriented industry, the personnel in the financial services sector need to be selected on the basis of their temperament and suitability. The personnel have to be trained, properly and periodically, with suitable job orientation, so that they can perform their role efficiently and effectively.
Dynamic Nature
Economic and social factors affect consumer habits, which have undergone a radical change. For example, customers were in the habit of going to banks, physically, in the past. Now, most normal transactions, such as cash withdrawals and deposits, as well as several connected services are delivered at ATMs. It is no longer necessary to go to a bank to conduct routine transactions.
Till the end of 2012, customers visited their bank physically to deposit cash. Now, cash deposit machines (CDMs) have been installed in several places. The State Bank of India (SBI), the country's largest public sector lender, introduced the first CDM in Mangalore on 28 January 2013.
The media plays an important role in spreading awareness of financial services. The range and scope of financial services, as well as the speed and ease with which these can be undertaken, have undergone radical changes; that institution that lacks the vision to perceive this and the energy to act speedily on this perception, ceases to grow.
Market Dynamics
Market dynamics depend on the disposable incomes of the social segment that is the target; their investment habits, educational standards, and socioeconomic transformations in society. Financial services have to be constantly innovative, redefined, and refined, taking into account the composition of the clientele and changing market dynamics.
The institutions that provide financial services have to visualize what the market needs, while evolving new products and services, even as they stay ahead of the market and responsive to the needs and desires of their customers.
---
FAQs About the Characteristics of Financial Services
What are the characteristics of financial services?
The characteristics of financial services are:
1. Intangibility
2. Customer-Centricity
3. Inseparability
4. Heterogeneity
5. Marketability
6. Simultaneous Functions
7. Perishability
8. People-Based Services
9. Dynamic Nature
10. Market Dynamics.