What is Brand Personality?
Brand personality is the way a brand speaks and behaves. It means assigning human personality traits/characteristics to a brand so as to achieve differentiation. These characteristics signify brand behavior through both individuals representing the brand (i.e. its employees) as well as through advertising, packaging, etc.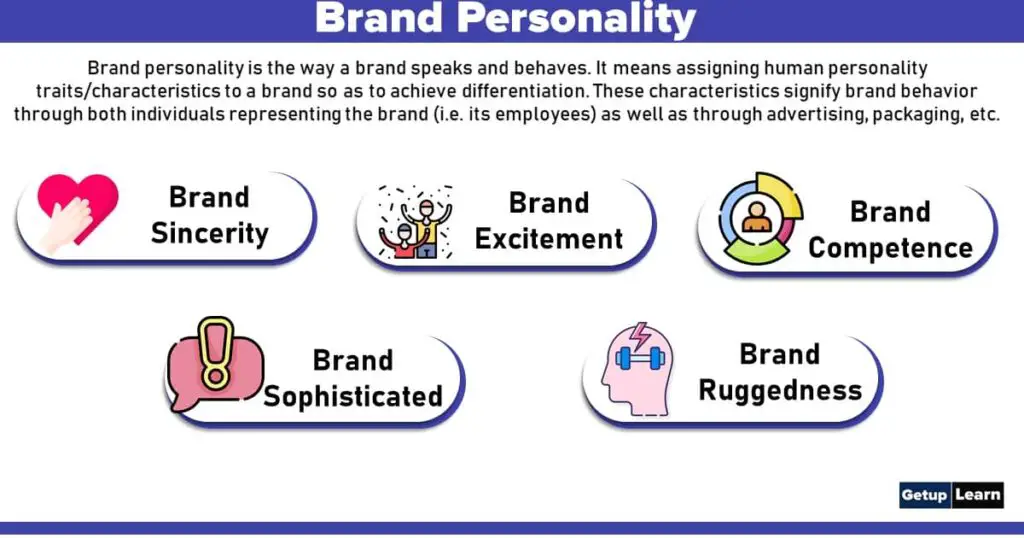 What Leads To Brand Personality?
Branding Strategies: The name, logo, color, fonts, and other branding strategies affect the brand personality.


Marketing Activities: Marketing activities like taglines, product packaging, and marketing communication strategies have a huge role in defining a brand's personality.
The idea of brand personality comes from around 1961 but it started being more heavily used in the 1980s. It is deeply connected with The Big Five Personality Traits, from which all human behavior is derived, based on a small set of fundamentals.
Brand personality refers to the personification of any brand. It is basically a set of human characteristics or traits that are assigned or embedded within a brand. Brand personality is created when there are human-like traits such as caring, creative, trustworthy, unique, straightforward, rebel, dishonest, etc. are a part of the brand characteristics.
Brand personality is the way in which a brand behaves or communicates with its users. Human-like characteristics signify the brand behavior through the individuals who are representing the brand (e.g. employees) along with packaging, advertising, etc. When brand identity or brand image is expressed in the form of human-like characteristics, it is referred to as brand personality.
---
Elements of Brand Personality
Branding has become a very popular concept nowadays and has led marketers to analyze and draft their marketing strategies on how they can build better brands. Following are the elements of brand personality: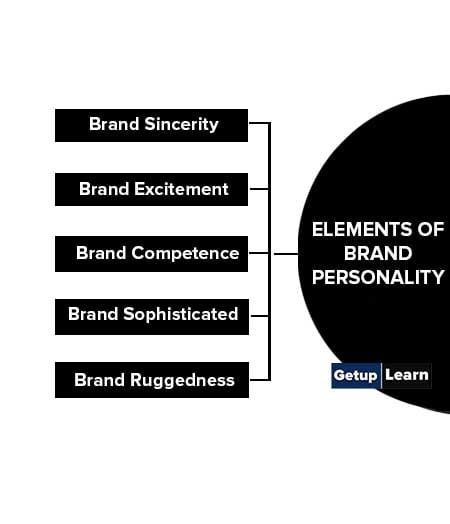 Brand Sincerity
This refers to how sincere the brand is. Honest, genuine, wholesome, and cheerful are some traits that come to mind when associating characteristics with this dimension. There are several marketing outlets available for a brand ranging from traditional methods to social media platforms, people are still more skeptical when the question is of the sincerity level of the brand.
Brand Excitement
The first word that comes to your mind when you are going to Universal Studios or Disney Worlds is 'excitement'. Brands that are spirited, imaginative, and daring tend to develop a level of excitement in customers and hence are categorized as brand excitement traits.
Brand Competence
The attributes of this brand personality include expertise, success, reliability, and intelligence. The concept of Six Sigma and Kaizen was developed in the manufacturing concerns because the units were willing to become competent.
There are several factors that create race amongst products and competence and production are one of them.
Brand Sophisticated
Common attributes associated with this brand personality trait include elegance, poise, charm, and refinement. Armani, Versace, and Tiffany are some brands that are categorized as ultra-premium and sophisticated.
This is perhaps the toughest personality trait that can be included in any brand. The basic is that the brand ideology needs to be reinforced on a regular basis so as to make it sophisticated.
Brand Ruggedness
Brand ruggedness is known because of the toughness, strong personality, and outdoor nature that comes along with it. A good example of brand ruggedness is Woodland shoes which are based upon toughness.
---
Brand Personality Examples
Here are some examples of brand personality: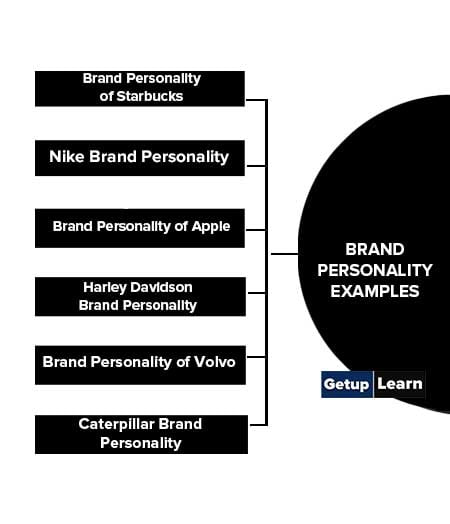 Brand Personality of Starbucks
Starbucks has a sophisticated personality trait. You might have come across several people who advertise on social media that they are going to Starbucks as a symbol of maturity and sophistication. There are several kids who visit Starbucks and they all buy Starbucks juice.
Does this mean that Starbucks sells the best juice? Or it is simply because they develop a more mature feeling when engaging with the popular coffee brand?
Nike Brand Personality
The brand personality of Nike is ruggedness. The branding strategies of Nike are that it is a leader in athletic apparel and shoes and they pride itself in being the best athletic gear. The nature of their product is tough and outdoorsy and endorses successful products in nearly every sport.
When you visit any sporting event, you can see many athletes sporting Nike gear. This brand creates a personality that is tough and successful.
Brand Personality of Apple
Apple shows sincerity as it is all about simplicity and removing complexities from the lives of people, people-driven product design, and being a humanistic company, which has a deep connection with its customers.
Harley Davidson Brand Personality
Harley Davidson's personality is ruggedness and rebellion. Promotional campaigns initiated by the company named motorcycles mean and tough machines. Its logo and the use of dynamic and bright colors helped Harley Davidson build its brand personality.
Brand Personality of Volvo
The personality of Volvo is sincerity. The emotional positioning of the auto manufacturer is firmly connected with competence. Volvo is all about performance, design, safety, and the overall environment.
These characteristics are very important for a Volvo consumer who is well aware that all these elements are considered thoroughly in the designing process.
Caterpillar Brand Personality
The brand personality of Caterpillar is ruggedness. The nature of the brand is that it is used for tough and outdoor work which automatically builds its personality.
---
What is Brand Image?
Brand image is the current view of the customers about a brand. It can be defined as a unique bundle of associations within the minds of target customers. It signifies what the brand presently stands for. It is a set of beliefs held about a specific brand.
In short, it is nothing but the consumers' perception of the product. It is the manner in which a specific brand is positioned in the market. Brand image conveys emotional value and not just a mental image. Brand image is nothing but an organization's character.
It is an accumulation of contact and observation by people external to an organization. It should highlight an organization's mission and vision to all. The main elements of a positive brand image are a unique logo reflecting the organization's image, a slogan describing the organization's business in brief, and a brand identifier supporting the key values.
Brand image is the overall impression in consumers' minds that is formed from all sources. Consumers develop various associations with the brand. Based on these associations, they form the brand image. An image is formed about the brand on the basis of subjective perceptions of associations bundle that the consumers have about the brand. Volvo is associated with safety. Toyota is associated with reliability.
The idea behind brand image is that the consumer is not purchasing just the product/service but also the image associated with that product/service. Brand images should be positive, unique, and instant. Brand images can be strengthened using brand communications like advertising, packaging, word-of-mouth publicity, other promotional tools, etc.
The brand image develops and conveys the product's character in a unique manner different from its competitor's image. The brand image consists of various associations in consumers' minds attributes, benefits, and attributes.
Brand attributes are the functional and mental connections with the brand that the customers have. They can be specific or conceptual. Benefits are the rationale for the purchase decision. There are three types of benefits: Functional benefits – what do you do better (than others), emotional benefits – how do you make me feel better (than others), and rational benefits/support – why do I believe you (more than others). Brand attributes are consumers' overall assessment of a brand.
Brand image has not to be created, but is automatically formed. The brand image includes products' appeal, ease of use, functionality, fame, and overall value. Brand image is actually brand content. When consumers purchase the product, they are also purchasing its image.
Brand image is the objective and mental feedback of consumers when they purchase a product. A positive brand image exceeding the customers' expectations. A positive brand image enhances the goodwill and brand value of an organization.
---
Importance of Brand Image
Every organization invests all its efforts to build a strong brand image as it is very helpful in fulfilling the motives and objectives of a business. A strong image of your brand can deliver the following benefits to your organization. Following are the importance of brand image:
It becomes easier to introduce new products within a brand name.

Additional profits in the form of new customers are attracted to the product or services.

It tends to develop a better business-customer relationship.

It helps in increasing the trust level of existing customers and is helpful in customer retention.
Brand image is a deciding factor that determines the sales of a product and it is very important because it is the aggregation of views and beliefs related to a certain brand.
The value and character of that particular brand are portrayed through its image and are eventually that mirror in which the key values of the organization are reflected.
---
Examples of Brand Image
Amongst several, one of the main purposes of any brand is to create an image that will take the organization and its offerings forward and in order to achieve this, huge budgets are allocated and many creative ideas are scrutinized. Some examples of strong brands' images include. These are the real-life examples of brand image: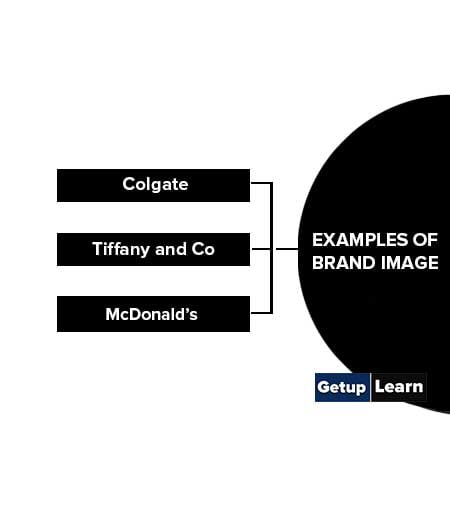 Colgate
Colgate is a brand name that is popular in nearly every household worldwide. The brand has managed to create an image that defines belief and trust. Consumers of Colgate are convinced that the brand will deliver satisfactory results.
Colgate has created an image in the mind of its customers that using it will be better for looking after their teeth and is a good way to maintain their dental and oral health. As a result, consumers mostly go for Colgate as the brand is synonymously been associated with trust.
Tiffany and Co
Tiffany and Co have a brand image in the minds of the customers to be top quality and expensive brand through its products, events, ads, stores, and others. The high quality and luxurious brand image of the company has grown organically from such consistent experiences.
McDonald's
The brand image of McDonald's is quick and inexpensive food, the food, stores, service; commercials, and other such elements consistently reflect the image of the brand.
Additionally, it creates an image in the minds of customers as affordable food with which customers are quite comfortable. They know what will be getting once they come to McDonald's.
---
What is Brand Identity?
Brand identity is the visible elements of a brand, such as color, design, and logo that identify and distinguish the brand in consumers' minds. Brand identity is distinct from brand image.
The former corresponds to the intent behind the branding: the way a company chooses its name; designs its logo; uses colors, shapes, and other visual elements in its products and promotions; crafts the language in its advertisements; and trains employees to interact with customers all with the goal of cultivating a certain image in consumers' minds. Brand image is the actual result of these efforts, successful or unsuccessful.
---
Brand Identity and Value
Beyond saving the company money on promotion, a successful brand can be one of a company's most valuable assets. Brand value is intangible, making it difficult to quantify, but common approaches take into account the cost it would take to build a similar brand, the cost of royalties to use the brand name, and the cash flow of comparative unbranded businesses.
Nike, Inc., for example, owns one of the world's most instantly recognizable logos, the "swoosh." In Forbes's" The World's Most Valuable Brands" 2018 ranking, the Nike brand ranked 18 with an estimated value of $32 billion, despite the fact that, in a world devoid of brand perception, taking the swoosh off of Nike's shoes and apparel would change nothing about their comfort or performance.
The top brand on the list was Apple, with an estimated value of $182.8 billion.
---
Building Brand Identity
The steps a company should take to build a strong, cohesive, and consistent brand identity will vary, but a few points apply broadly to most:
Analyze Company and Market
A full SWOT analysis that includes the entire firm and a look at the company's strengths, weaknesses, opportunities, and threats is a proven way to help managers understand their situation so they can better determine their goals and the steps required to achieve them.
Determine Key Business Goals
The brand identity should help fulfill these goals. For example, if an automaker is pursuing a niche luxury market, its ads should be crafted to appeal to that market and should appear on channels and sites where potential customers are likely to see them.
Identify Its Customers
Conducting surveys, convening focus groups, and holding one-on-one interviews can help a company identify its consumer group.
Determine the Personality and Message It Wants to Communicate
A company needs to create a consistent perception, rather than trying to combine every conceivable positive trait: utility, affordability, quality, nostalgia, modernity, luxury, flash, taste, and class. All elements of a brand, such as copy, imagery, cultural allusions, and color schemes, should align and deliver a coherent message.
Building a brand identity is a multi-disciplinary strategic effort, and every element needs to support the overall message and business goals. It can include a company's name, logo, and design; its style and the tone of its copy; the look and composition of its products; and, of course, its social media presence.
Apple founder Steve Jobs famously obsessed over details as small as the shade of gray on bathroom signs in Apple stores. While that level of focus may not be necessary, the anecdote shows that Apple's successful branding is the result of intense effort, not serendipity.
---
History of Brand Identity
National, religious, guild, and heraldic symbols, which we might see as analogous to modern branding, go back millennia. The modern practice dates to the industrial revolution, however, when household goods began to be produced in factories, manufacturers needed a way to differentiate themselves from competitors.
Thus, these efforts evolved from simple visual branding to advertisements that included mascots, jingles, and other sales and marketing techniques. British brewing company Bass Brewery and the food-processing company Tate & Lyle both claim to have the oldest trademarked brands. Other brands that emerged in that period include Quaker Oats, Aunt Jemima, and Coca-Cola.
---
FAQ Related to Brand Personality
What are the elements of brand personality?
Following are the elements of brand personality:
1. Brand Sincerity
2. Brand Excitement
3. Brand Competence
4. Brand Sophisticated
5. Brand Ruggedness.
What are the brand personality examples?
Following are the brand personality examples:
1. Brand Personality of Starbucks
2. Nike Brand Personality
3. Brand Personality of Apple
4. Harley Davidson Brand Personality
5. Brand Personality of Volvo
6. Caterpillar Brand Personality.