What is Compensation?
Compensation is money or other benefits provided by the library organization to employees in return for their work.
The term compensation means any form of payment made to an individual for services rendered as an employee for an employer; services performed as an employee representative; and any separation or subsistence allowance paid under any benefit schedule provided in conformance with title VII of the Regional Rail Reorganization Act of 1973 and any termination allowance paid under section 702 of that Act.
Compensation may be paid as money, a commodity, a service, or a privilege. However, if an employee is to be paid in any form other than money, the employer and employee must agree before the service is performed.
---
Theories of Compensation
Discussed below are a few theories of compensation: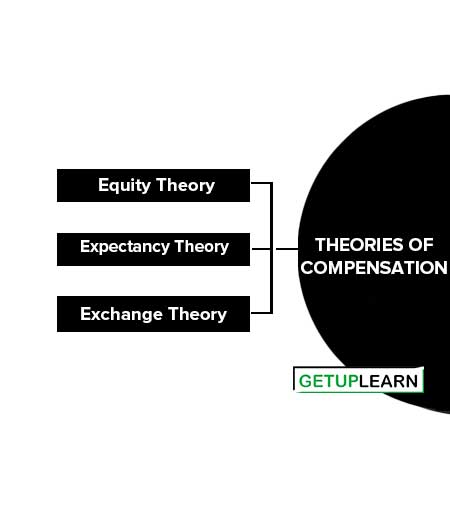 Equity Theory
According to this theory, fairness about pay differentials among individuals who hold the same job can be established by using:
Seniority-based pay systems that reward longevity.

Merit-based pay systems that reward employee performance.

Incentive plans that allow employees to receive part of their compensation based on their job performance.

Skills-based pay systems.

Team-based pay plans that encourage cooperation and flexibility in employees.

Comparing inputs and outputs of a similar co-worker.

Perceived inequity affects employee effort.
Two types of equity can be ensured:
Internal Equity: This can be achieved by the following: Comparison of my input/reward ratio with that of similar others. Employees may seek to address the imbalance by changing their inputs. Fairness of pay differentials between different jobs in the organization can be established by job ranking, job classification, point systems, and factor comparisons.


External Equity: This can be achieved by: Providing fairness in organizational compensation levels relative to similar jobs in other organizations.
Expectancy Theory
According to this theory: People are motivated by intrinsic and extrinsic outcomes they desire. People will only be motivated if the outcome is possible. People will only be motivated if the outcome is contingent.
Exchange Theory
According to this theory: Pay is an exchange for effort. Implicit Social Contract: It means beliefs about mutual obligations. Implicit Psychological Contract. Temporal Quality: It means the amount of time in a job & career.
---
Methods of Compensation Plan
Compensation Plans should meet the goals of the organization and employees. Its Objective should include goals related to controlling costs, minimizing discontent, easy administration, incentives, minimum income and payments, and benefits.
The following are the methods of compensation plan: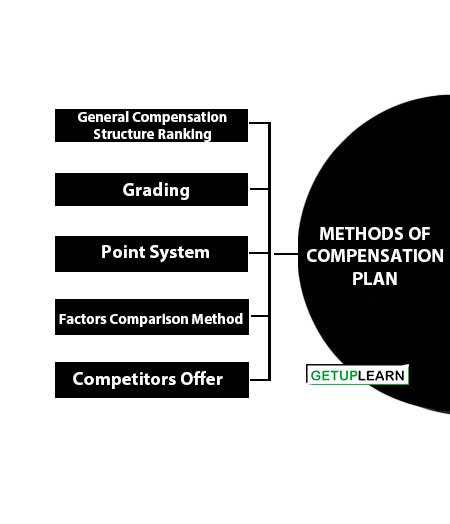 General Compensation Structure Ranking
It is widely used in businesses. It sorts job descriptions in order of worth. It measures only overall appraisals of the relative worth of different jobs.
Grading
A system of grades & grade descriptions, against which individuals' jobs are compared. The grades are described in terms of job responsibility, skills required, supervision given & received, and exposure to unfavorable & hazardous working conditions.
Point System
It involves establishing & defining the factors common to most jobs that represent the chief elements of value inherent in all jobs. The specific factors chosen are, the minimum education required, mental & physical skills, responsibility, and personality requirements.
Each factor is assigned a minimum & maximum no of points, with different ranges being associated in line with the relative importance of the factors.
Factors Comparison Method
It employs selected factors & evaluation scales. It compares salespersons on a set of selected factors & ranks them according to the performance performed by them under such criteria factors.
Competitors Offer
The compensation structure should be made while seeking the competitors offering to their sales staff. Determine Compensation Level Management must determine the amount of compensation a salesperson should receive on average.
Management should ascertain whether the caliber of the present sales force measures up to what the company would like to have Management weighs the worth of individual persons by estimating the sales & profit dollars that would be lost if particular salespeople resigned.
Another consideration is the compensation amount the company can afford to pay. The company should make a cost estimate on a break-even chart to propose a compensation plan for every individual salesperson.
---
Types of Compensation Plans
Different types of compensation plans are as follows: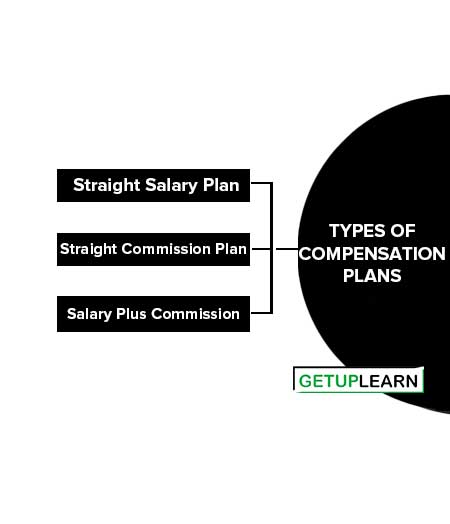 Straight Salary Plan
It is the simplest compensation plan. Salespersons receive fixed sums at regular intervals (usually each week or month sometimes every 2 weeks), representing total payments for their services. Such plans are more common among industrial goods companies than among consumer-goods companies.
Such plans are engaged in trade selling. These jobs, in which selling amounts to mere order-taking, abound in the wholesale & manufacturing fields, where consumer necessities are distributed directly to retailers. It is also used for paying driver-salespersons selling liquor & beverages, milk & bread, and similarly distributed products.
Straight Commission Plan
The theory supports that individual sales personnel should be paid according to productivity. As sales volume rises to different levels, the commission rates differ for different products, categories of customers, or during selling seasons.
This method is common in the clothing, textiles & shoe industries & in drug hardware wholesaling. Firms selling intangibles, such as insurance & investment securities, and manufacturers of furniture, office equipment & business machines also are frequent users of straight-commission plans.
Salary Plus Commission
Most sales compensation plans are combinations of salary & commission plans. By a judicious blending of the two basic plans, management seeks both control & motivation. Actual results depend upon management's skills in designing & administering the plan.
---
Factors Affecting Compensation
Compensation paid to the employees in any organization is mainly affected by two main types of factors: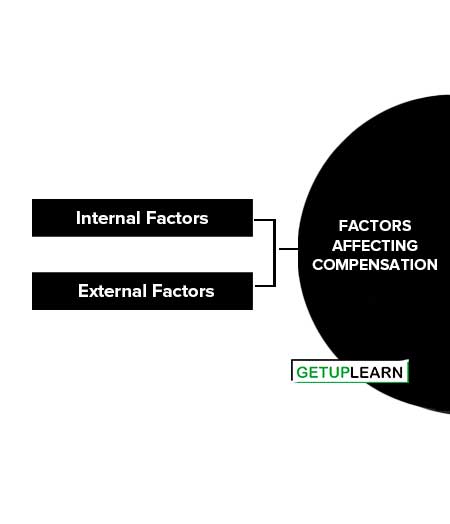 Internal Factors
Internal Factors which affect compensation mainly include factors like the compensation strategy of the organization, the worth of the job, the employee's relative worth, and above all employer's ability to pay.
External Factors
The external factors which produce an impact on the determination of compensation in any organization include factors like conditions of the labor market, wage rates in the area of organization, cost of living, collective bargaining, and legal requirements in this relation.
An effective compensation system is a blend of all the above-stated factors. Less emphasis on any of them will produce a bad effect on the overall planning of the compensation scheme.
The HR manager shall be very conscious in considering all these factors so that the compensation plan shall not only satisfy the employees but shall also make them motivated to work in the best interest of the organization and prove to be an asset of the organization in the long run. The Figure given below shows the various factors to be considered in framing the compensation strategy of the organization: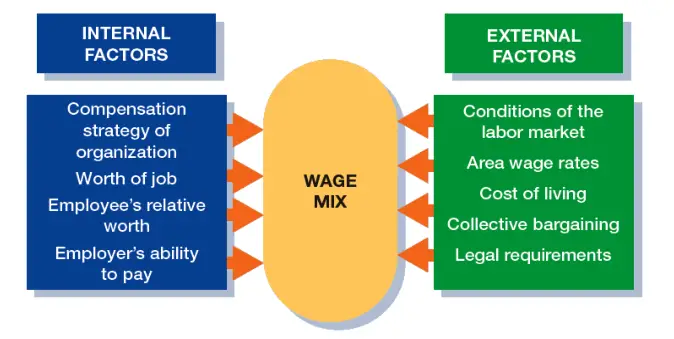 ---
Types of Compensation
Given below are the types of compensation and techniques: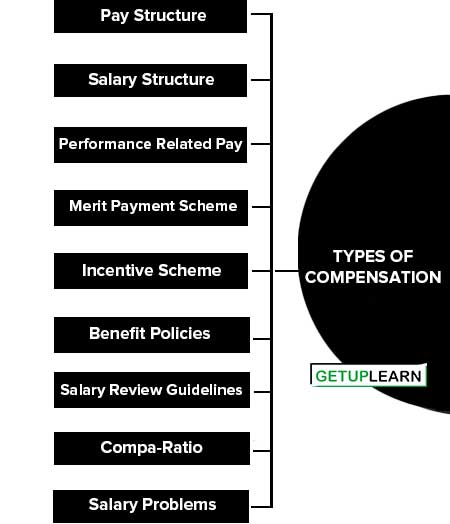 Pay Structure
The first and foremost way to compensate any employee is by defining his pay structure. It is basically of two types (a) graded pay structure and (b) non-graded pay structure.
Salary Structure
A salary structure is another way to compensate the employees. While determining the salary structure, the minimum wage rate shall be considered.
Performance Related Pay
Performance shall be considered while setting compensation for an employee.
Merit Payment Scheme
The merit of an employee shall be a very important criterion for determining compensation for an employee.
Incentive Scheme
Various plans shall be considered while determining incentive schemes for the employees.
Benefit Policies
The compensation plan shall be such that it provides both financial as well as non-financial benefits to an employee to provide him full satisfaction.
Salary Review Guidelines
There must be proper guidelines to keep on reviewing salaries on the basis of the internal and external environment of the organization
Compa-ratio
It must be considered in order to retain efficient employees as if they find the compensation schemes of competitors more effective they may move for their job. Compa-ratio analysis can reveal a situation where earnings drift has taken place.
Salary Problems
There must be proper redressal procedures in the organization to solve the problems of the employees regarding their salaries and other incentives in order to keep them satisfied and motivated toward their performance.
---
Incremental Systems
Incremental systems vary from rigid procedures with fixed and predetermined movements through a scale related to age, service in the company, or service in the job, to flexible systems where management exercises complete discretion over the award and size of increments without any guidelines.
Between the two extremes, there is a middle ground of semi-flexible systems. Different types of Incremental Systems are as follows: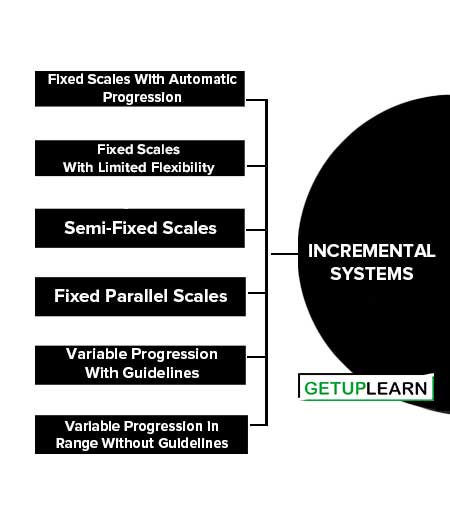 Fixed Scales With Automatic Progression
Where individuals move through jobs or grades by predetermined steps related to age or service, these could be rated for age scales. Fixed scales are criticized because they do not give enough incentive to effort and the improvement of performance promotion might only be an award in the longer term, if at all.
They are defended because they can be operated with complete impartiality- many people, especially civil servants, question the possibility of determining a fair relationship between merit and reward where the only method of measurement is the subjective opinion of someone's boss.
Fixed Scales With Limited Flexibility
Where it is possible to give double or even triple increments to high flyers and withhold increments for poor performers.
Semi-Fixed Scales
This allows automatic progression to a 'merit bar' at which progression for some people may stop while others can advance at different rates according to performance.
Fixed Parallel Scales
Which allows for the exercise of more managerial discretion by providing different patterns of incremental progression for different levels of performance.
Variable Progression With Guidelines
Where there are no fixed incremental points, but managers are given more or less mandatory instructions on how they should exercise their discretion.
The minimum guidelines in this system may consist of annual increments that can be awarded for different levels of performance. These may be extended in more rigid systems to give the proportion of staff who should receive a given increment.
Variable Progression in Range Without Guidelines
Where management discretion in the award of increments and the determination of their size tends to be restricted only by the maximum of the salary range and the budget they are allowed for salary increases.
---
Benefits of Compensation
Discussed below are a few benefits of compensation: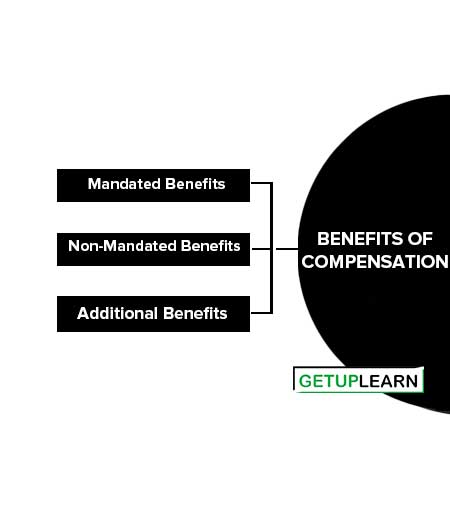 Mandated Benefits
Unemployment Insurance is a mandated protection plan that provides a basic substance payment to employees who are between jobs.


Social Security provides limited income to retired individuals.


Workers' Compensation is insurance that covers individuals who suffer a job-related illness or accident.
Non-Mandated Benefits
Private Pension: Plans are administered by the organization and provide income to the employees at their retirement.


Defined Benefit Plans: A private pension plan where the benefit is precisely known based on a simple formula such as years of service.


Defined Contribution Plans: A private pension plan in which the size of the benefit depends on how much money is contributed to the plan.
Additional Benefits
Wellness programs concentrate on keeping employees from becoming sick rather than simply paying expenses when they do become ill.


Child care programs assist parents with childcare expenses.


Cafeteria-style benefits allow employees to choose the benefits they really want.
---
Limitations of Compensation
Discussed below are a few limitations that are faced while determining compensation: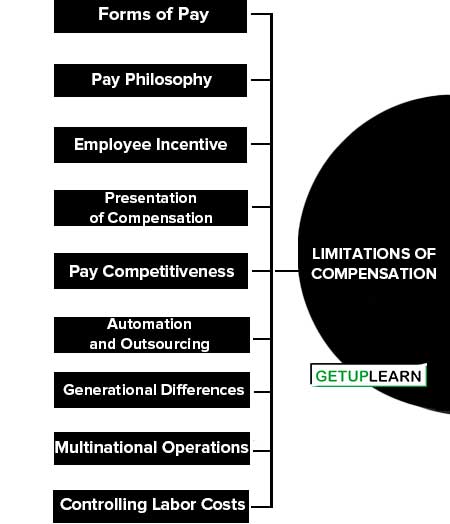 Forms of Pay
Employee pay begins with a cash base and bonus pay, but may also contain non-cash forms of compensation. The valuation of non-cash compensation is often the most difficult for employees to appreciate, but it offers the most opportunity for creativity on the part of the organization.
Pay Philosophy
"All organizations pay according to some underlying philosophy about jobs and the people who do them", says KP Kanchana, a professor at CFAI National College in Bhopal, India.
Compensation programs must consider and value the work of those who provide internal support to the organization as well as those who directly impact financial results. An organization's compensation strategy will dictate the rate and timing of pay increases, which jobs are eligible for bonuses, and the level of competitiveness with similar organizations.
Employee Incentive
Pay-for-performance has become increasingly popular. Companies use compensation to reward and boost the morale of high-performing employees, but also to motivate underachievers.
Presentation of Compensation
How a manager speaks regarding pay can inadvertently create ill will when the intention was to deliver good news.
It is important to use specifics when speaking with employees rather than categorize any pay increase as "good", "significant" or some other qualifier. Employee perceptions of compensation are based on individual values, needs, and expectations.
Pay Competitiveness
Businesses wishing to compete for the best of the available talent pool must offer a competitive compensation program compared to other companies within their industry and at large.
Automation and Outsourcing
Automating compensation, including outsourcing some compensation functions, enables businesses to standardize their system throughout the organization, eliminate paperwork, and help departments to communicate more effectively.
It minimizes payroll errors and makes it easier to compensate for performance based on quantifiable measures. Organizations may also use technology to benchmark jobs and survey employees.
Generational Differences
People are living longer, and thus, working longer. In a look at physician compensation, Max Reibolt of The Coker Group noted a difference in work ethic and expected compensation that fell along generational lines.
Older workers were more likely to work longer hours in exchange for their pay while younger workers expected high levels of pay even when their productivity was aided by technology.
Multinational Operations
Multinational corporations must balance the needs and expectations of employees from various countries. Compensation must balance conformity with local laws and customs against global corporate policies.
Controlling Labor Costs
Labor costs often constitute the largest line in a corporation's budget. In a tight economy, companies are faced with a flat, if not shrinking, pool of funds.
The cost of labor is broader than the amount paid to employees, taking into account, recruitment, training, turnover, infrastructure and overhead, and the impact of these things on productivity.
---
Making Compensation Plan Effective
In order to make Compensation Plan effective, the organization must take care of the following points in mind:
More Money Groups
Specific Benefits
Working Schedules
Opportunity
Training & Education
In today's world of tackling employee compensation plans, there are some things to be specially taken care of. They are as follows: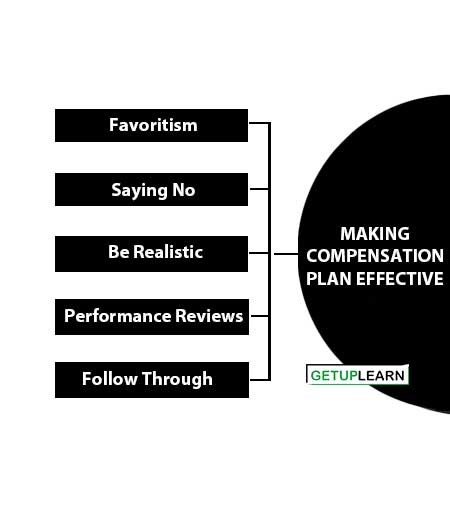 Favoritism
One can't offer money, benefits, or opportunities to only those you "like." Be fair across the board or you'll lose valuable employees.
Saying No
One also shouldn't immediately say no to any compensation request. Implement surveys and follow through on those surveys. Find out what's important and to whom before saying no. Employees that realize you'll be offering nothing will walk.
Be Realistic
While all of these compensation tips sound great, you have to be realistic with what you can afford even if you have a varied group of wants and needs.
If you have to decide between the expense of raises or promotions, consider the promotion but perhaps offer a small one-time incentive and explain the expense limitations to your employees. Never leave your employees in the dark just wondering the imagination is a powerful thing.
Performance Reviews
Employees want guidance and they also want to know how they're doing or at least how you think they're doing. Whether you use a standard employee review form or a 360-degree performance review, do use reviews and make sure they come at regular intervals perhaps based annually after the hire date.
Follow Through
Whatever path you decide to take when facing employee compensation challenges, make sure what you promise you follow through with. Nothing will make your employees lose trust in you more than if you don't deliver on promises.
Considering the needs and wants of all the employees is essential for a happy work environment. Survey, analyze, and reward where you can, and don't do what you can't afford. If you can't afford to offer something, let your employees know why whether it's budget or other constraints; chances are they'll understand and you'll retain a happier group of workers.
---
FAQs About the Compensation
What are the theories of compensation?
The following three theories of compensation are:
1. Equity Theory
2. Expectancy Theory
3. Exchange Theory.
What are the methods of compensation plan?
The some of methods of compensation plan given below:
1. General Compensation Structure Ranking
2. Grading
3. Point System
4. Factors Comparison Method
5. Competitors Offer.
What are the 3 compensation plans?
Different types of compensation plans are as follows:
1. Straight Salary Plan
2. Straight Commission Plan
3. Salary Plus Commission.
What are the types of compensation?
These are the types of compensation:
1. Pay Structure
2. Salary Structure
3. Performance Related Pay
4. Merit Payment Scheme
5. Incentive Scheme
6. Benefit Policies
7. Salary Review Guidelines
8. Compa-ratio
9. Salary Problems.
What are the limitations of compensation?
The following are the limitations of compensation:
1. Forms of Pay
2. Pay Philosophy
3. Employee Incentive
4. Presentation of Compensation
5. Pay Competitiveness
6. Automation and Outsourcing
7. Generational Differences
8. Multinational Operations
9. Controlling Labor Costs.