Types of Retailers
These are the following different bases of types of retailers: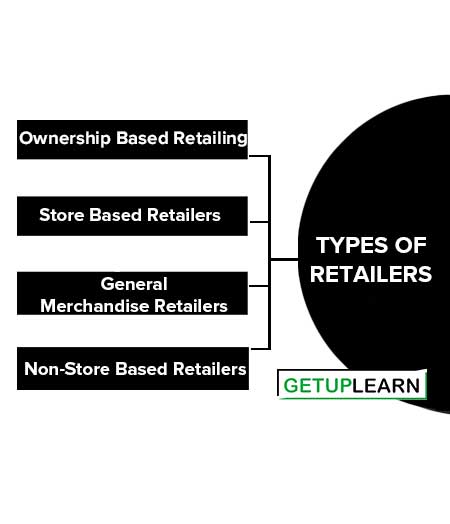 ---
Ownership Based Retailing
The following types of retailing are based on ownership: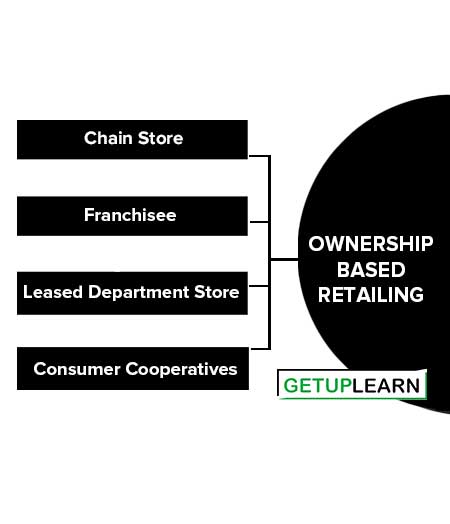 Chain Store
Many outlets are operated by a single retailer in a common manner. In underdeveloped economies, there is almost a quarter of retail outlets and above 50 percent of retail sales.
Retail chains can range from two stores to 1000 stores to retailers. Larger cooperation or holding companies have many divisions of retail chains. There are large retail chains in shopper's stop and lifestyle in India.
The advantage is that wholesalers are bypassed. There is direct buying from the manufacturers. Many of the suppliers service the orders from chains promptly and extend a higher level of proper service and selling support. A new brand can now reach its stores faster.
The disadvantage is that chain retailers suffer from limited flexibility, but they need to be consistent in terms of prices, products, promotions, and product assortments. Chain retailers also invest in multiple leases, fixtures, product assortments, and employees.
Franchisee
A franchise is purchased with the right to use a name, product, concept, and business plan. Franchisees will receive a proven business model from an established business.
Advantages: These business processes are well-established. Franchisees can receive help from a network and customers who are already familiar with this product. A marketing strategy is already put in place. Risks are taken into consideration when a retail business is started so that they can be reduced.
The disadvantage is that Franchisees pay a fee or royalty based on sales every year. Startup costs relating to any franchisee are high. The biggest disadvantage of being a franchise is the lack of flexibility and freedom.
Leased Department Store
A leased department means a department in a retail store rented by a manufacturer. In this case, the lease is responsible for all aspects of business and also pays the rent of the store. This store also provides various restrictions for the leased department to ensure overall consistency.
Leased departments can choose to operate in various categories that are mainly on the fringe of the store's major product lines i.e. store beauty salons, banks, studios, food courts, etc.
Consumer Cooperatives
Consumer Cooperative is said to be a retail firm in which a group of consumers invest in the enterprise. In this, the officers are selected. The advantage is that all the consumers and members share the profits and savings. These retailers are many in number but small in size and are very popular in food retailing.
The process is started mainly to guard against the malpractice that many retailers indulge in and either charge higher prices or offer inconsistent quality merchandise.
These consumer cooperatives are limited because the consumers are not experts in buying, selling, and handling goods and services and the cost savings and low selling prices have not been expected in many cases.
---
Store Based Retailers
Retail organizations can be classified according to strategy and products handled. Store formats can be divided into food-based retailers and general merchandise retailers. With the advent of retail formats like hypermarkets, the traditional distinction between food and merchandise formats is disappeared.
Hypermarkets can care for both categories. However, the various types of store formats that come under these categories are: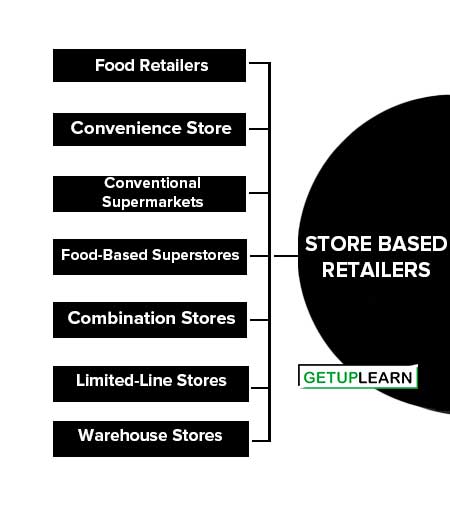 Food Retailers
Foodstuffs are the products sold by food retailers. There are different types of food retailers like convenience stores, food-based superstores, combination stores, limited line stores, warehouse stores, etc.
Convenience Store
A convenience store is defined as a store that is kept open for long hours. It carries a limited edition of product assortment and occupies space of around 3000-8000 square feet. These stores sell snack foods, soft drinks, car wash, lottery tickets, courier service, gasoline, ATM services, and many more.
Conventional Supermarkets
This type of market is a self-service departmental store that sells a variety of food and non-food items. These stores are also called 'mom-and-pop stores' in the US. Dollar Tree, Family Dollar, and '99 Cents Only' are some examples in the US.
Food-Based Superstores
Food-based stores are larger than conventional supermarkets but smaller in size and product range than combination stores.
Floor space covered by these stores is around 25,000-50,000 square feet and it carries a reasonable stock of non-food items like kitchen appliances, prescription drugs, flowers, videotape rentals and etc.
Over 50 percent of the products stocked by these superstores are their own brands. Tesco Plc. gets over 75 percent of its profits from such 'conforming' super stores.
Combination Stores
A combination store is defined as a mix of a conventional supermarket and a general merchandise store. They are very large and cover an area of 30,000-100,000 square feet.
These stores have the advantage of economies of scale and operational efficiencies. This helps to reduce costs and improve profitability. Wal-Mart, Kmart, and Meijer are among the successfully operating combination stores in the US.
Limited-Line Stores
They are known as limited assortment box stores and offer a short list of items. These stores should not be confused with other retailers like Wal-Mart, Costco, and Home Depot. Limited-line stores are discount stores and offer fewer services, shorter store hours, and selective national brands.
Warehouse Stores
These stores are discount food retailers and offer a wide range of products in a simple environment. Unlike limited-line stores, these usually cater to national brands.
Many of these retail formats are favored by one-stop food shoppers and customers seeking low prices so that they can provide services easily. They are also called super warehouses. Home Depot, the American retailer used the warehouse format to expand.
---
General Merchandise Retailers
Another major category of retail stores is the General Merchandise Retailers Which has experienced a study growth? The department stores are the most successful among the mass merchandisers. Argos and Woolworth are two of the biggest general merchandisers in the UK. A brief discussion on each type of general merchandiser's retailer follows: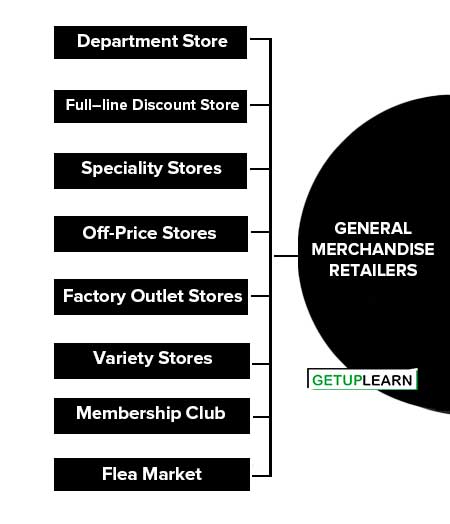 Department Store
A department store is defined as a large retail unit with a large assortment of goods and services that are organized into separate departments for purposes of buying, promotion, service, and control. Selection of many general merchandise retailers and also offers as the anchor store in a shopping center.
These stores are very exclusive in terms of the shopping experience they offer, the services they provide, and the atmosphere of the store. A wide range of services is provided from altering clothes to home delivery.
From many histories, it is known that departmental stores are all about new innovations, including the advertisement of prices, enacting a one-price policy, developing computerized checkouts, offering a money-back guarantee, adding branch stores, and decentralized management.
Full–line Discount Store
This type of store targets middle-class and lower-middle-class shoppers who looking for good prices. It also conveys an image of a high-volume, low-cost, and fast-turnover outlet. It is selling a lot of commodities for less conventional prices.
Products are normally sold via self-service with minimal assistance in any single department. A highly equipped checkout service is provided. Traditional department stores provide buildings, equipment, and fixtures that are less expensive, and operating cost is also lower.
To respond to category specialists, full–line discount retailers are creating more attractive shopping environments, placing more emphasis on apparel, developing private label merchandise, and increasing store visits by offering easily accessible convenience store merchandise.
Speciality Stores
This store basically concentrates on a limited number of complementary commodities and provides a high level of service. This store is smaller in size. These are the types of specialty stores:
Drugstores
Category Killers
DIY Store
Drugstores
It is a specialty store that concentrates on health and personal grooming commodities. Pharmaceuticals often represent over 50 percent of sales in the drugstore and gain large profits. These stores have quite considerable competition from the discount stores and supermarkets adding medicines.
Category Killers
This concept originated in the U.S. as a lot of cheap land was available and there was dominant car culture. Category specialist is a discount store that offers a limited variety but a large assortment of commodities. These are basically discount specialty stores.
DIY Store
This center is basically for home improvement and is a category specialist offering proper equipment and materials used by do-it-yourselfers and contractors to make improvements in the home. The focus is mainly on providing material and information that enables consumers to maintain and improve their homes.
While the merchandise is in these stores, the warehouse atmosphere lies. They are not facing the same level of competitive environment as other category specialists, because the commodities vary considerably across the country and there are opportunities for differentiation in customer service.
Off-Price Stores
This chain offers brand names and designer labels and sells them at lower prices to the consumer making it effective and having a limited service environment.
These stores buy orders from retailers which were canceled earlier, irregulars from manufacturers, and end-of-season items which they sell at a wholesale price. Due to this pattern of classified buying, the same type of commodities may not be in stock when customers visit the store.
Factory Outlet Stores
Factory outlet stores are off-price stores owned by manufacturers or by department or specialty store chains and thus are frequently referred to as factory outlets.
A factory outlet is a manufacturer–owned store selling manufacturer closeout products, irregulars, canceled orders, etc. They most of the time resemble shopping centers in terms of size and layout and provide manufacturing units on a single occupied site.
Variety Stores
These stores handle a variety of low and popularly-priced goods and services, such as stationery products, gift items, women's accessories, health, and beauty aids, toys, houseware, etc. variety stores do not carry full product lines and do not deliver products. Transactions are carried out on a cash basis. There are few salesmen/ saleswomen.
Membership Club
Membership clubs also known as 'Warehouse Clubs' membership discount stores, 'wholesale cash and carry warehouse'. Consumers who shop here have to be members of the clubs and pay a monthly or annual membership fee. These buyers make up a majority of the members but buy less than the wholesale members.
Membership Clubs have blurred distinctions between large retailers and large wholesalers While many retailers now operate formats such as wholesale clubs and super-centers that perform many wholesale functions, many large wholesalers are setting up their own retailing operations.
Flea Market
This market has many retail vendors offering a wide range of products at discounted prices in an area. There is a trend of street selling- shoppers touch, sample, and haggle over the price of goods. many consumers are price-conscious and have found retail formats of commodities and services for customers.
These markets are mostly located in nontraditional areas where they are not associated with retailing; racetracks, stadiums, and arenas. Others are at sites abandoned by supermarkets and department stores. It may be outdoor or indoor. Web-based flea markets such as eBay and Amazon are the newest trend in the market. These markets easily avoid taxes and operating costs are quite low.
---
Non-Store Based Retailers
It is a form of retailing in which sales are made to consumers without physical stores. These retailers can be known from the way they communicate with their customers like direct marketing, direct selling, and vending machines or e-tailing.
These stores are time conscious and they provide 24-hour service seven days a week and providing delivery at the location and time of their choice. Non-store sales are now growing at a much higher rate than sales in retail stores. This high growth rate is primarily due to the growth of e-retailing.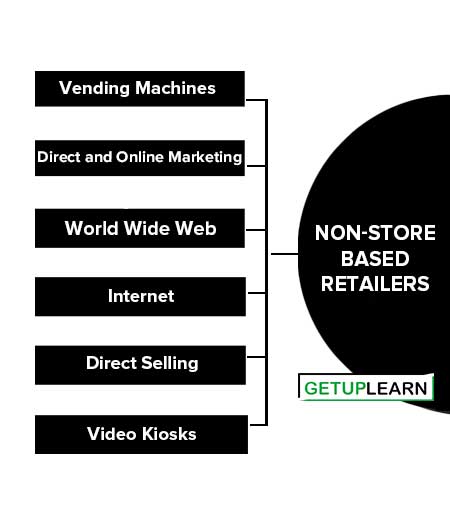 Vending Machines
It is a retailing format involving the coin or card-operated dispensing of goods (such as beverages) and services (such as life insurance sales at airports), eliminating the use of sales personnel and allowing for round-the-clock sales. Machines can be placed anywhere, they are most convenient to the consumers inside or outside a store, in a hotel corridor, at a station, airport, or a street corner.
Hotels, restaurants, and train stations are highly visible spots for selling but they accommodate a small proportion of sales. Higher-priced items have not sold well in vending machines because too many coins are required for the transaction and many vending machines are not equipped with currency note changers. Growth in employment has been limited.
Direct and Online Marketing
Direct and online marketing are the fastest-growing forms of marketing: Many consumers are now having a broad array of non-store alternatives, including mail order and online shopping. People are increasingly avoiding the crowds at malls by doing more of their shopping by phone, mail, or computer.
Direct marketing has emerged as a powerful nonstore communication and distribution medium for selling a host of products to consumers.
It is a form of retailing where product selling is targeted to specific customers. Catalog retailing and direct mail are common forms of s of direct marketing. Over the years, several new forms of selling like telemarketing, direct radio and TV, and internet shopping have gained widespread acceptance.
World Wide Web
Furthermore, in today's world there is advanced technology which is easier to use Web sites, improved online service, and the increasing sophistication of search technologies, online retailing is increasing.
Internet
Internet retailing is a retail format in which the retailer and customer communicate which each other through an interactive electronic network. After an electronic dialogue between the retailer and the customer, the customer can order commodities directly through the interactive network or by telephone. The commodity is then delivered to the customer's given address.
Direct Selling
Direct selling is a method of marketing and retailing goods to consumers. Though direct sellers too use catalogs and some form of advertising, the personal interaction of the salesperson with the customer is the catalyst for the sale.
The direct selling industry worldwide has shown tremendous growth in India, it has a steady 60 to 65 percent growth rate in sales turnover. Over 200 direct selling companies operate in the country and 70 percent of them are regional operators. Eureka Forbes was the pioneer of direct selling in India.
Video Kiosks
Video kiosks comprise stand mounted with television monitors or a computer terminal, which use touch screen technology to display products and related information to customers. Video kiosks have a location advantage and have been widely used by retail giants like Walmart and Kmart for the past decade.
Home Depot, the second largest retailer in the US, uses video kiosks in its self-checkout lanes, where customers can bill their products and make their payments without help. Video kiosk enables retailers to add value and enhance customer relationships while simultaneously providing an interactive forum to display products. Dell Computers have established its kiosk in malls to sell its computer brands.
---
FAQs About the Types of Retailers
What are the types of retailers?
These are the types of retailers on different bases:
Ownership-Based Retailing: 1. Chain Store 2. Franchisee 3. Leased Department Store 4. Consumer Cooperatives.
Store-Based Retailers: 1. Food Retailers 2. Convenience Store 3. Conventional Supermarkets 4. Food-Based Superstores 5. Combination Stores 6. Limited-Line Stores 7. Warehouse Stores.