What is Order Processing?
Order processing is the term used to identify the collective tasks associated with fulfilling an order for goods or services placed by a customer.
The processing procedure begins with the acceptance of the order from the customer and is considered complete when the customer has received the products and determined that the order has been delivered accurately and completely.
Organizations often invest a great deal of time and effort in designing an efficient order processing strategy, thus increasing the possibility of establishing a long-term working relationship with its customers.
The actual approach to order processing will vary, depending on the complexity of the order and the type of products that are being ordered. In some cases, order processing can be almost instantaneous.
---
Importance of Order Processing
The importance of order processing can be understood in terms of the following parameters such as: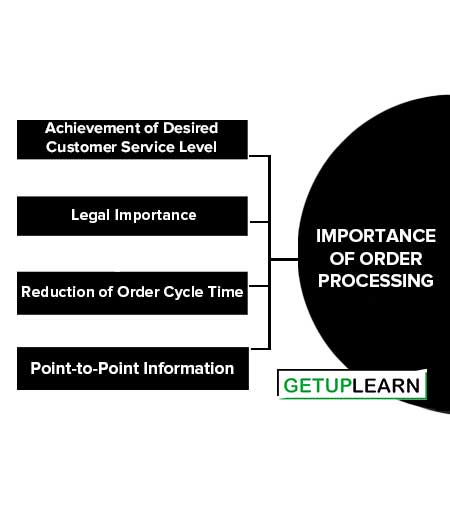 Achievement of Desired Customer Service Level
The objective of an organization under order processing is to render the best possible customer service in a cost-efficient manner by making available the product in the desired quantity, quality, and time.
Hence, to achieve the required level of customer service standards, it is essential to have a proper and well-defined order processing system.
This order processing system is by and large guided by the front-end partners of the supply chain such as retailers, wholesalers, etc. Over a period of time, there has been a clear shift of power away from manufacturers to resellers.
Legal Importance
From the legal point of view, when finished products move from the production plant to customers, it is essential that there should be a transfer of title from seller to buyer. This particular activity is performed by the order processing function of the firm by raising an invoice or bill in the name of the customer, which transfers the title to the customer.
In addition to raising the invoice, there are other legal documents, which are required to be prepared, such as shipping advice, road permits, challans, packing slips, and documents related to payment of taxes and duties.
Reduction of Order Cycle Time
Supply chain management enables firms to ensure a smoother and faster flow of material and related information from the point of inception to the point of consumption. It also advocates that fixed, shorter, and reliable order cycle time or replenishment cycle time will ensure better working capital management and customer service management.
Any reduction in order cycle time reflects on the organization's capability to streamline the total system and eliminate unnecessary administrative procedures in the total order processing system.
Point-to-Point Information
One of the major importance of order management in recent times is the sharing of point-to-point information, which is considered crucial market intelligence. Today, a firm's ability to provide accurate and timely information to customers regarding the status of an order, availability of inventory, tentative shipping and dispatch schedules, back-order status, etc., is more significant.
With the development of ICT tools and techniques, customers' expectations are ever-increasing and they are becoming more and more aggressive for fulfillment of their desired service level for order processing.
---
Functions of Order Processing
Customer order processing involves several functions, which need to be performed by various partners of the supply chain at different points in time. Agrawal (2010) highlighted the major functions of order processing as entry and maintenance of customer orders, inventory allocation, and delivery schedule, along with the processing of pending backorders.
It also includes the transfer of title of ordered goods by means of the preparation of invoices and shipping documents. Various functions of order processing are further listed:
Order entry;

Credit checking;

Inventory availability check;

Order acknowledgment;

Order editing and modification;

Order status inquiry;

Price and discount extension;

Backorder processing;

Raise invoice;

Prepare transportation and shipping advice;

Shipping scheduling;

Reserve inventory/safety stock and their release;

Reassign order source;

Verify shipment, and finally;

Return processing in case of defective delivery.
The functions of organizations' order processing can also be elaborated more systematically in five crucial stages, namely order preparation, order receipt, order conduct, order execution, and order release.
---
Elements of Order Processing Cost
Basically, order processing is an administrative function whose costs are generally incorporated into office expenditures. For the purpose of calculation of total logistics costs and its trade-off with the customer service level, it is essential to locate various elements of order processing costs.
It includes employee remuneration and benefits who are involved in this function, postage and stamps, stationary, rent, electricity, taxes, office equipment for a speedier flow of information and their storage and repairs, etc. Some of the elements of order processing cost are discussed below: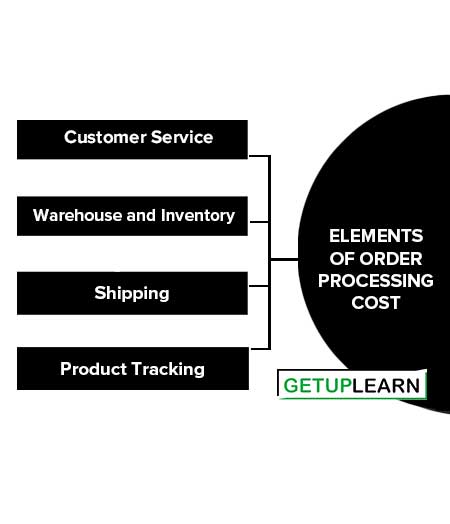 Customer Service
Regardless of whether an order is filled by mail, phone, or online, customer service representatives play an important role in order fulfillment. Customer service employees verify the order to ensure that all necessary information, such as names, addresses, product numbers, and description codes, appears on the order form.
Customer service representatives contact customers to verify or obtain missing information. Representatives are also on hand to answer questions customers may have once they receive the products.
Warehouse and Inventory
After receiving an order, the shipping department must locate the item within the current inventory. Most manufacturers store inventory in large warehouse spaces. Employees find the item and bring it to the shipping area. The cost to maintain warehouse space varies based on size and location.
The number of employees needed to manage a warehouse depends on inventory size and order fulfillment demands. Employees may include inventory pickers, packers, managers, quality assurance, maintenance, and janitorial staff.
Shipping
Shipping a product involves verifying the order, packing the product to keep it safe during shipping, and transporting the product using organization vehicles or by hiring third-party package delivery services. Most products ship securely in various kinds of packaging. The cost to ship a product depends on its weight and volume.
Product Tracking
To make tracking a product through the order fulfillment process easier, many organizations rely on product tracking software. Each order receives an individual number used to track it through the customer service, warehouse, and shipping processes.
Employees use product scanners to input information by scanning bar codes on the product and the order form. Products may be scanned during each process to determine the location of the product. Some organizations allow customers to track their orders by allowing them to view the process from their own computers.
Furthermore, it has already been said that currently, most of organizations prefer to have computer-to-computer order receiving and processing with two objectives:
To speed up customer responsiveness by preventing unnecessary delay in order transmittal;


To cut down day-to-day order processing costs due to delay transmittal as well as administrative bottlenecks.
In this case, major costs come in the development of communication infrastructure. So far as operating cost is concerned, it is quite negligible in comparison to development costs.
---
FAQs About the Order Processing
What is the importance of order processing?
The importance of order processing is the achievement of the desired customer service level, legal importance, reduction of order cycle time, and point-to-point information.