---
Growth of Indian Retail
Retailing is one of the pillars of the economy in India and accounts for 35% of GDP According to the 8th Annual Global Retail Development Index (GRDI) of AT Kearney, the Indian retail industry is the most promising emerging market for investment.
The retail industry is divided into organized and unorganized sectors. Organized retailing refers to trading activities undertaken by licensed retailers, that is, those who are registered for sales tax, income tax, etc.
These include the corporate-backed hypermarkets and retail chains, and also the privately owned large retail businesses. Unorganized retailing, on the other hand, refers to the traditional formats of low-cost retailing, for example, the local Kirana shops, owner-manned general stores, paan/beedi shops, convenience stores, hand carts, pavement vendors, etc.
---
Top List of Retail Companies in India
These are some top list of retail companies in India: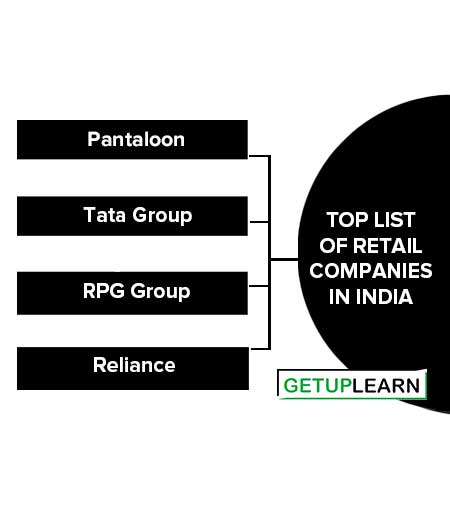 Pantaloon
Pantaloon is one of the biggest retailers in India with more than 450 stores across the country. Headquartered in Mumbai, it has more than 5 million sq. ft of retail space located across the country. In 2001, Pantaloon launched the country's first supermarket 'Big Bazaar'.
Tata Group
Tata Group is another major player in the Indian retail industry with its subsidiary Trent, which operates Westside and Star India Bazaar. Established in 1998, it also acquired the largest book and music retailer in India 'Landmark' in 2005. Trent owns over 4 lakh sq. ft of retail space across the country.
RPG Group
RPG Group was one of the earlier entrants in the Indian retail market when it came into food & grocery retailing in 1996 with its retail Foodworld stores. Later it also opened a pharmacy and beauty care outlets.
Reliance
Reliance is one of the biggest players in the Indian retail industry. More than 300 Reliance Fresh stores and Reliance Mart are quite popular in the Indian retail market.
---
Types of Retail Formats
Retail formats in India: Hypermarts/supermarkets: large self-servicing outlets offering products. These are the types of retail formats: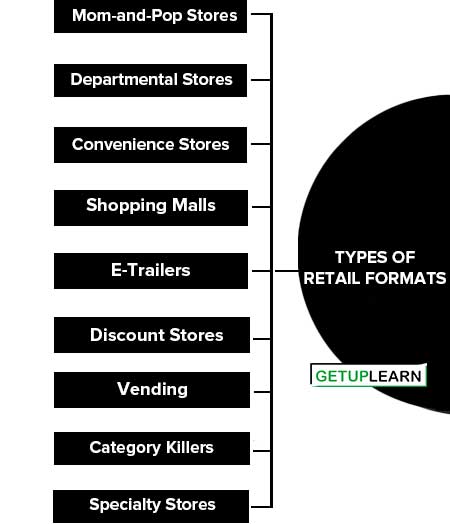 Mom-and-Pop Stores
They are a family-owned business catering to small sections; they are individually handled retail outlets and have a personal touch.
Departmental Stores
They are general retail merchandisers offering quality products and services.
Convenience Stores
They are located in residential areas with slightly higher prices for the goods due to the convenience offered.
Shopping Malls
The biggest form of retail in India, malls offer customers a mix of all types of products and services including entertainment and food under a single roof.
E-Trailers
They are retailers providing online buying and selling of products and services.
Discount Stores
These are factory outlets that give discounts on the MRP.
Vending
It is a relatively new entry, in the retail sector. Here beverages, snacks, and other small items can be bought via vending machines.
Category Killers
They are small specialty stores that offer a variety of categories. They are known as category killers as they focus on specific categories, such as electronics and sporting goods. This is also known as Multi Brand Outlets.
Specialty Stores
They are retail chains dealing in specific categories and provide a deep assortment. For example, Mumbai's Crossword Book Store and RPG's Music World, etc.
---
Top Indian Retailers
Indian apparel retailers are increasing their brand presence overseas, particularly in developed markets. While most have identified a gap in countries in West Asia and Africa, some majors are also looking at the US and Europe.
Arvind Brands, Madura Garments, Spykar Lifestyle, and Royal Classic Polo are busy chalking out foreign expansion plans through the distribution route and standalone stores as well. Another Denim wear brand, Spykar, which is now moving towards becoming a casualwear lifestyle brand, has launched its store in Melbourne recently.
The low-intensity entry of the diversified Mahindra Group into retail is unique because it plans to focus on lifestyle products. The Mahindra Group is the fourth large Indian business group to enter the business of retail after Reliance Industries Ltd, the Aditya Birla Group, and Bharti Enterprises Ltd. The other three groups are focusing either on perishables and groceries, a range of products, or both.
---
Challenges Facing Indian Retail Industry
Indian retail industry has been facing a number of challenges as shown below:
The tax structure in India favors small retail businesses.

Lack of adequate infrastructure facilities.

High cost of real estate, regulations restricting real estate purchases, and cumbersome local laws.

Dissimilarity in consumer groups.

Restrictions in Foreign Direct Investment, Automatic approval is not allowed for foreign investment in retail.

Shortage of retail study options.

Shortage of trained manpower.

Low retail management skills.

The intrinsic complexity of retailing-rapid price changes, the constant threat of product obsolescence, and low margins.
---
Future of Retail
The Indian retail industry is the fifth largest in the world. Comprising the organized and unorganized sectors, the Indian retail industry is one of the fastest-growing industries in India, especially over the last few years. Though initially, the retail industry in India was mostly unorganized.
However, with the change of tastes and preferences of the consumers, the industry is getting more popular these days and getting organized as well. With the growing market demand, the industry is expected to grow at a pace of 25-30% annually. The Indian retail industry is expected to grow from Rs. 35,000 crore in 2004-05 to Rs. 109,000 crore by the year 2010.
---
FAQs About the Retail Industry in India
What is the top list of retail companies in India?
The top list of retail companies in India is 1. Pantaloon 2. Tata Group 3. RPG Group 4. Reliance.
What are the types of retail formats?
The following are the types of retail formats: 1. Mom-and-Pop Stores 2. Departmental Stores 3. Convenience Stores 4. Shopping Malls 5. E-Trailers 6. Discount Stores 7. Vending 8. Category Killers 9. Specialty Stores.