Who are Intermediaries?
A person who acts as a link between people in order to try and bring about an agreement; a mediator.
What are Channel Intermediaries?
Distribution of goods takes place by means of channels, and the intermediaries are the independent groups or organizations within the channel that make the product available for consumption. Distribution intermediaries, marketing intermediaries, or middlemen, are extremely important parties involved in a company's product distribution strategy.
Without intermediaries, it would be next to impossible for the business to function at all. This is because intermediaries are external groups, individuals, or businesses that make it possible for the company to deliver its products to the end user.
They share the sales pressure and also help the company in meeting customer demand and satisfaction. There are four generally recognized broad groups of intermediaries: agents, wholesalers, distributors, and retailers. The next section however discusses the various types of intermediaries available.
---
Types of Intermediaries in Marketing
Discussed below are a few types of intermediaries in marketing: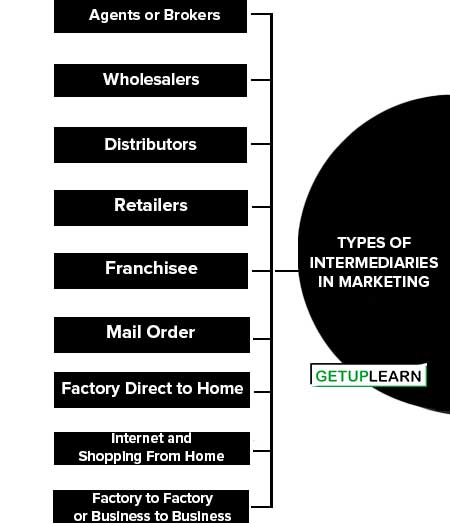 Agents or Brokers
Agents or brokers are individuals or companies that act as an extension of the manufacturing company. Their main job is to represent the producer to the final user in selling a product. Thus, while they do not own the product directly, they take possession of the product in the distribution process. They make their profits through fees or commissions.
Wholesalers
They simplify the product and information flows between the manufacturer and the end users. Maintain large inventories of goods that are both uneconomical and impractical for Manufacturers. Unlike agents, wholesalers take title to the goods and services that they are intermediaries for.
They are independently owned, and they own the products that they sell. Wholesalers do not work with small numbers of products: they buy in bulk, and store the products in their own warehouses and storage places until it is time to resell them.
Wholesalers rarely sell to the final user; rather, they sell the products to other intermediaries such as retailers, for a higher price than they paid.
Distributors
Distributors function similarly to wholesalers in that they take ownership of the product, store it, and sell it off at a profit to retailers or other intermediaries. However, the key difference is that distributors ally themselves with complementary products.
For example, distributors of Coca-Cola will not distribute Pepsi products, and vice versa. In this way, they can maintain a closer relationship with their suppliers than wholesalers do.
Retailers
Retailers come in a variety of shapes and sizes: from the corner grocery store to large chains like Walmart and Target. Whatever their size, retailers purchase products from market intermediaries and sell them directly to the end user for a profit.
Franchisee
A franchisee is an individual who purchases the rights to use a company's trademarked name and business model to do business. The franchisee purchases a franchise from the franchisor.
The franchisee must follow certain rules and guidelines already established by the franchisor, and in most cases, the franchisee must pay an ongoing franchise royalty fee to the franchisor.
Mail Order
Goods are ordered by catalog, and delivered to the home by post or parcel carrier. The physical distribution channel is thus from manufacturer to mail order house as a conventional trunking (line-haul) operation, and then to the consumer's home by post or parcel carrier, bypassing the retail store.
Factory Direct to Home
It can occur by direct selling methods, often as a result of newspaper advertising. It is also commonly used for one-off products that are specially made and do not need to be stocked in a warehouse to provide a particular level of service to the customer.
Internet and Shopping From Home
Initial physical distribution channels were similar to those used by mail order operations by post and parcel carriers. The move to internet shopping for grocery products has led to the introduction of specialist home delivery distribution operations.
These are almost all run by third-party companies. In addition, it is now possible to distribute some products, such as music, software, and films, directly, computer to computer.
Factory to Factory or Business to Business
The factory-to-factory or business-to-business channel is an extremely important one, as it includes all of the movement of industrial products, of which there are very many. This may cover raw materials, components, part-assembled products, etc.
Options vary according to the type and size of product and order, may range from full loads to small parcels, and may be undertaken by the manufacturers themselves or by a third party.
---
FAQs Related to the Channel Intermediaries
What are the types of intermediaries in marketing?
The types of intermediaries in marketing are:
1. Agents or Brokers
2. Wholesalers
3. Distributors
4. Retailers
5. Franchisee
6. Mail Order
7. Factory Direct to Home
8. Internet and Shopping From Home
9. Factory to Factory or Business to Business.