What is Warehousing?
A warehouse is a place. Here, surplus goods can be kept safely for future use. Modern warehouses are equipped with the latest equipment and facilities for the safety of goods from theft, sun, moisture, rats, etc.
Warehousing has removed the obstacle of time in the smooth flow of trade. It helps in the storage of goods until they are demanded for further use or sale. It has proved to be a boon to manufacturers and trades by helping them to store and accumulate goods.
Traditionally, a warehouse was viewed as a storage facility necessary to accomplish basic marketing processes. That is, the warehouse served as a static unit in the material and product pipeline, necessary to match products in a timing sense with consumers.
Changing requirements of the retail environment where they became business partners against mere traders have further broadened the concept and function of a warehouse.
From this perspective, a warehouse is expected to provide superior logistical customer service in terms of regular availability of products, zero defect delivery, information sharing, and consistency and reliability of services.
---
Types of Warehouses
There are two broad bases on which we can divide types of warehouses, namely: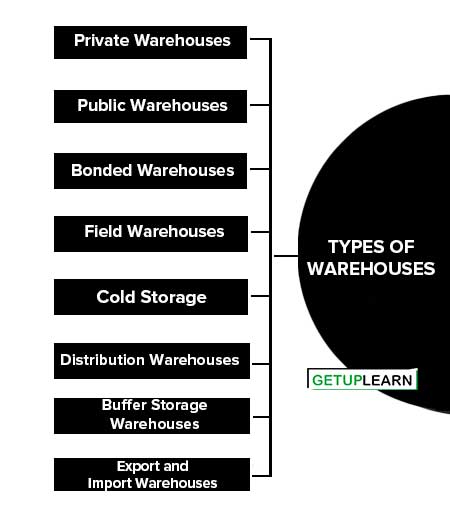 On the Basis of Ownership
It can be categorized into two broad categories:
Private Warehouses
A private warehouse comprises warehousing facilities operated by and owned or leased by a firm handling its own goods. They are used by firms whose warehousing needs are stable enough, such as retail chain stores firms or multi-brand, multi-product FMCG firms, to make long-term commitments about fixed facilities.
Generally, private warehouses assure greater design flexibility with respect to storage and material handling needs, greater and more efficient control of warehouses, operational functionality, rapid information flow, and lower costs. The major benefits of private warehousing include control, flexibility, cost, and other intangible benefits.
Public Warehouses
Public warehouses are those warehouses that are owned and operated by organizations like the government, cooperatives, or a Third Party Logistics Service Provider (3PL) in the private sector. The space of public warehouses can be used by any firm, organization, or individual public on certain terms and conditions of payment.
Despite having higher operating costs, the major benefit of public warehouses to organizations using space, are flexibility in terms of ease in changing the location, size, and number of facilities, no fixed costs, economies of scale, and value-added service.
On the Basis of Services
The types of warehouses on the basis of services are:
Bonded Warehouses
It is licensed and authorized by the customs authorities for storing goods till the import duty due on it is paid or owned either by the government or private parties.
Field Warehouses
These warehouses are managed by a public warehousing agency in the premises of a factory of the organization which needs the facility for borrowing money from a bank against the certification of goods in storage or in process by an independent professional warehouseman.
Cold Storage
It is another type of warehouse that provides a facility to preserve the perishability of goods against payment of a storage charge for the space utilized by different parties.
Distribution Warehouses
These warehouses are generally located nearer to the market owned or leased by the manufacturers to stock their final products for immediate supply to the market. These distribution warehouses are also called distribution centers.
Buffer Storage Warehouses
These warehouses are built at strategic locations with adequate transport and communication facilities and the goods are stored in bulk quantities and further transmitted to distribution warehouses.
Export and Import Warehouses
These warehouses are located near the ports from where international trade is undertaken. They provide transit storage facilities for goods awaiting onward movements.
---
Functions of Warehouse
The functions of warehouses are to provide cost-effective storage, in suitable conditions, for the organization's products and materials.
The existence of a warehouse is justified by the extent to which it contributes to the efficiency and effectiveness of physical distribution functions. The contribution of warehousing in the achievement of physical distribution objectives can be assessed in two heads, namely: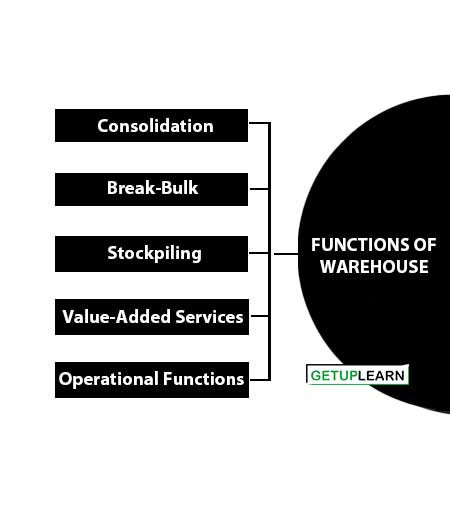 Economic Functions
This category of functions is directly related to the physical distribution costs, i.e. tradeoff between various elements of distribution costs.
For instance, generally, the addition of one more distribution warehouse results in an increase in the warehousing and inventory costs but there may be a decrease in the overall cost due to a reduction in the transportation costs and an increase in the customer service level, resulting into an increase in the volume of sales. In such cases, such a step will be justifiable. The economic functions of warehousing are as follows:
Consolidation
In this function, a warehouse receives and consolidates materials or goods from different production plants and then dispatches the same to a particular customer on a single transportation shipment.
Break-Bulk
This function refers to the transshipment of goods from the production plant in bulk quantity by low-rate volume shipment to the distribution warehouse and then reshipment in small quantities to different customers.
Stockpiling
The next economic function of warehousing is the seasonal storage of goods to select businesses. For instance, agricultural products are produced at a specific time but consumed throughout the year or woolen garments are manufactured in summer and stocked to meet the demand of winter.
Value-Added Services
Certain value-added services are also provided by the warehouses, such as packaging and labeling. In some cases, basic products are produced and shipped to warehouses and finally distributed to different customers in different packages and labels.
Operational Functions
Operational functions include:
Receiving of goods.
Up-to-date recording of goods showing stock position
Storing of goods at an appropriate place and in the minimum area.
Protecting and preserving the physical attributes of the products.
Proper handling of goods, especially loading and unloading.
Order receiving, processing, and filing.
Dispatching of goods.
Preparation of documents pertaining to transactions, records, and advice.
Other legal functions related to trade.
Warehouse operates as an integral element of physical distribution management. Key decisions for setting up such facilities must be determined by the overall physical distribution strategies for service and cost. In any such strategic system design, a warehouse would fit if it can render either service or cost advantages.
The appropriate number and geographic sites of warehouses are determined by the number of customers, manufacturing locations, and product requirements.
Warehouses represent one part of a firm's overall effort to gain time and place utility. From a policy viewpoint, a warehouse should be established in a physical distribution system only when the sales and marketing impact increases or the total cost is reduced.
---
FAQs About the Warehousing
What are the types of warehouses?
The types of warehouses are 1. Private Warehouses 2. Public Warehouses 3. Bonded Warehouses 4. Field Warehouses 5. Cold Storage 6. Distribution Warehouses 7. Buffer Storage Warehouses 8. Export and Import Warehouses.
What are the functions of warehouse?
The functions of the warehouse are Consolidation, Break-Bulk, Stockpiling, Value-Added Services, and Operational Functions.