Definition of Retailing
Retailing involves a direct interface with the customer and the coordination of business from end to end–right from the concept or design stage of a product or offering to its delivery and post–delivery service to the customer.
Retailing is the sale of goods and services to the ultimate consumer for personal, family, or household use. It is the last stage in the distribution process.
Thus, retailing involves more than selling tangible products. The purchase of a service such as a haircut or a hotel service is also a retail transaction. Purchases for business or industrial use are not retail transactions.
In commerce, a "retailer" buys goods or products in large quantities from manufacturers or importers, either directly or through a wholesaler, and then sells smaller quantities to the end user. Retail establishments are often called shops or stores.
Marketers see the process of retailing as a necessary part of their overall distribution strategy. The term "retailer" is also applied when a service provider services the needs of a large number of individuals, such as a public utility, like electric power. Today, retailing is at a growing stage with a lot of challenges ahead.
---
Classification of Retailing Firms
The classification of retailing firms is explained below: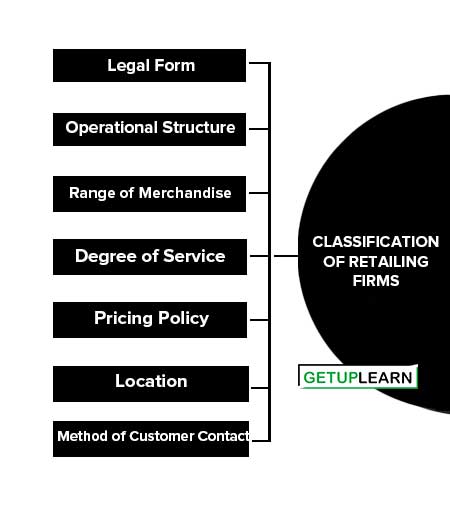 Legal Form
There are three basic legal forms of ownership are exist in retailing. They are sole proprietorships, partnerships, and limited liability companies (private or public).
Operational Structure
There are normally three operational structures in retailing. They are independent traders, multiple chain stores, and consumer co-operatives. Franchise mode is also evolving.
Range of Merchandise
Some retail businesses offer a wide range of goods, for example, Mega Mart. On the other hand, some retail outlets concentrate on narrow ranges like- health food, leather goods greeting cards, etc.
Degree of Service
Although many retail outlets have been converted or built to self-service or self-selection standards, there are others that offer their consumers services such as delivery, credit, gift wrapping, repairs, etc. For example Shops.
Pricing Policy
Some retailers choose to set low prices rather than the service element of their retailing mix.
Location
With the increasing cost of real estate, many retailers have selected outskirt locations. The rural and semi-urban markets are also growing.
Method of Customer Contact
Most retail transactions are conducted by face-to-face contact in retail stores. But nonstore retailing can also be conducted through mail-order catalogs, telephone selling, vending machines, door-to-door selling, mobile shops, and through the Internet.
There are several ways in which consumers can receive goods from a retailer:
Counter Service: Here goods must be obtained from the seller. This type of retail is common for small expensive items (e.g. jewelry) and controlled items like medicine and liquor.


Delivery (Commerce): Here goods are sent directly to consumer's homes or workplaces. Ordering by telephone is now common, either from a catalog, newspaper, television advertisement, or a local restaurant menu, for immediate service (especially for pizza delivery).

Direct marketing, including telemarketing and television shopping channels, is also used to generate telephone orders. Online shopping started gaining significant market share in developed countries in the 2000s. For example, Avon or Amway products, Asian sky shop products, etc. can be easily got at home.


Door-to-door sales, where the salesperson sometimes travels with the goods for sale.


Self-service, where goods may be handled and examined prior to purchase became more common in the 1920s. Different departmental stores are good examples of self-service retail outlets.
---
Retailing Environment
The retailer must adapt themselves to the change in the environment. The retailing environment can be divided into two levels micro environment and the macro environment.
The microenvironment consists of those elements which are under the control of the retail organisation such as customers, competitors and other channel members. The macro environment consists of those elements which are not controllable by the retail organisation such as demographic, economic, cultural and social, political, legal, technological and natural factors.
---
Factors of Retailing Environment
These are the two basis of factors of retailing environment, macro and micro: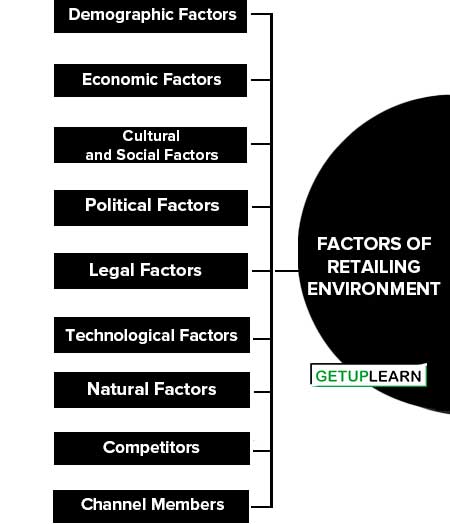 Retailing Macro Environment
These are the following macro environment factors in retailing:
Demographic Factors
The retailer must segment the market based on different demographic variables (age, sex, education, income etc.) and then based on those segment, he should store the product. Formulate the retaining strategy, suppose for example, some retailers keeps all kinds of baby products, some retailers keeps only ladies or gents garments etc.
Economic Factors
As the standard of living of people is improving the demand for consumer durables is also increasing. Other economic factors that the retailer must monitor are the rate of inflation and the cost of credit. For example at the time of depression, demand for luxury goods is reduced.
Cultural and Social Factors
Individuals are becoming more self-concerned and they prefer healthy living. Food habits and lifestyle are also changing.
These changes in society will be reflected in the needs and wants of the customer and the retailer must be aware of these changes in order to fulfill the market demand. Because of these changes demand for ready-to-eat food and demand for grinded masalas were increasing.
Political Factors
Government policies also influence retailing. The problems of inflation, foreign competition, and unemployment will be tackled differently by different political parties.
Legal Factors
Closely associated with political philosophy is the role of the law and regulating authorities set up to administer and enforce the law.
There are many laws relating to the health and safety of the workers and other laws relating to retailing are labeling requirements, pricing, credit policy etc. Sales of Goods Act etc are important regulations.
Technological Factors
Because of the constant change in technology, the retail industry has dramatically changed. The emergence of e-commerce is one of the significant technological gradations of retailing. Nowadays many retailers are doing online trading for different goods like electrical items, mobile phones, jewelry, garments, etc.
Natural Factors
In the modern marketing system, consumers are becoming more concerned about an eco-friendly environment. Retailers are expected to do business in such a way that there will be little pollution and waste.
Retailing Micro Environment
These are the following micro environment factors in retailing:
Competitors
In any profitable market, there will be competition to satisfy the needs and wants of the customer. Because of the competition retailers need to monitor the market and they have to put reasonable prices. Otherwise, competitors may sweep the market.
Channel Members
The retailer is the last person in the channel of distribution. There are many other channel members like distributors, wholesalers, agents etc. who also influence the retailing business.
---
FAQs About the Classification of Retailing Firms
What is the classification of retailing firms?
The following is classification of retailing firms:
1. Legal Form
2. Operational Structure
3. Range of Merchandise
4. Degree of Service
5. Pricing Policy
6. Location
7. Method of Customer Contact.
What is Retailing?
Retailing is the sale of goods and services to the ultimate consumer for personal, family, or household use. It is the last stage in the distribution process.
What are the factors of retailing environment?
The following are the factors of retailing environment: 1. Demographic Factors 2. Economic Factors 3. Cultural and Social Factors 4. Political Factors 5. Legal Factors 6. Technological Factors 7. Natural Factors 8. Competitors 9. Channel Members.