What is Sales Quota?
A sales quota is the estimated value or volume of sales expected to be achieved by the sales personnel over a given period of time. Sales quotas are set for salesmen, marketing units, or territories.
Definition of Sales Quota
These are the definitions of sales quota by authors:
A sales quota is a part of a company's total estimates sales assigned to a salesmen, a territory, a branch, a distributor or dealer or to some other selling unit, as a goal to be attained in a designated future period of time.

Paul H. Nystrom
Sales quotas are quantitative objectives assigned to sales personnel and other units of the selling organization.

Still, Cundiff and Govoni
A sales quota is the sales goal set for a product, company, division or sales representative.

Philips Kotler
A sales quota is a performance goal assigned to a marketing unit for a specific period of time."

Stanton, Spiro
It is evident from these definitions that quotas are quantitative goals assigned to a sales force in a particular territory during a specific period of time.
---
Objectives of Sales Quotas
Well-established sales quotas help in the effective implementation of strategic plans. According to Stanton and Spiro, they are significant and serve many valuable objectives of sales quotas as follows: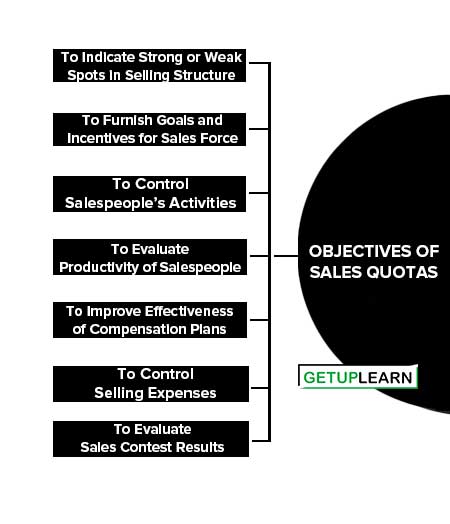 To Indicate Strong or Weak Spots in Selling Structure
The extent of territorial development can be gauged by whether the quota has been achieved or not. Sales performance varies product by product, sales personnel by sales personnel, territory by territory and quotas help identify the strong and weak points but further analysis of performance data is required for uncovering reasons for performance differentials.
If sales significantly exceed the pre-determined targets, companies analyze the reasons for variance and similarly, if sales fail to meet the quota, firms analyze what went wrong. Reasons for failure and success can be evaluated. The failure to meet the quotas must have happened because of competition, over-estimation of market potential, or underperformance by the sales force.
To Furnish Goals and Incentives for Sales Force
Sales relative to quotas is the most prevalent performance criterion for judging salesperson performance. With a measurement standard, sales representatives are better guided to perform their activities and achieve goals.
Dalrymple and Cron state, "Achievement-oriented people want specific and challenging goals, with regular feedback on their performance. Sales quotas perform this function."
To Control Salespeople's Activities
Quotas help firms manage sales force performance more effectively as with the assistance of an appropriate type of quota, sales managers can motivate the sales force to undertake certain activities such as calling on new accounts, building displays, selling high ticket items, etc.
The sales representative sometimes may be unclear about which activity to focus on unless stressed by management.
To Evaluate Productivity of Salespeople
Quotas act as a tool to measure the performance of the salesperson as it provides targets to the salesperson. Quotas provide a yardstick, against which the actual performance is compared to comprehend whether the sales representative is performing well or not.
Quotas also provide a means for deciding which retail outlet or units/branches of the sales organization are contributing above-average or below-average.
To Improve Effectiveness of Compensation Plans
Quotas play an important role in the sales compensation system. Quotas bring in incentives for salespeople who are remunerated through straight salary. Sales representatives are well aware that a worthwhile performance in quota achievement reflects favorably on appraisal and salary reviews.
To Control Selling Expenses
Profitability and expenses are more tightly controlled through quotas. Organizations many times encourage expense control by establishing expense quotas alone, without clubbing them to the remuneration plan.
Sometimes companies set rupee expense quotas and appraise salesmen partially on their accomplishment in staying within assigned expense limits.
To Evaluate Sales Contest Results
Organizations usually use performance against quota as the core basis for rewarding sales contests. With all the participants feeling they have an almost equal chance of winning, these contests serve as a powerful incentive tool.
A common denominator feature is built into contests by basing rewards on the percentage of quota fulfillment. However, attempts are also made for adjusting differences among territories and differences among the sales force.
---
Factors Affecting Sales Quotas
There are various factors that affect the determination of sales quotas. Some of the important factors are as follows: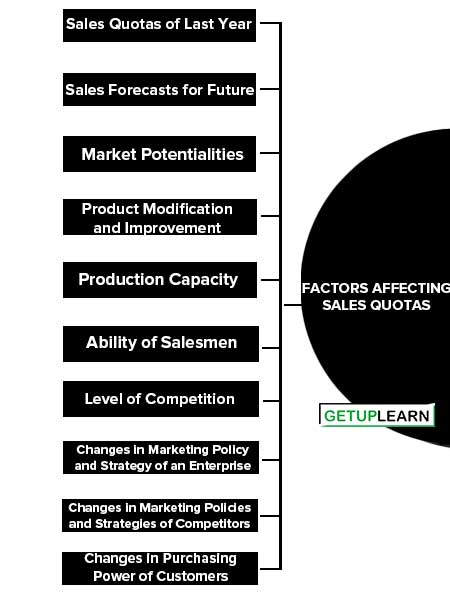 Sales Quotas of Last Year
The sales quota for the next year can be set on the basis of the past year's sales after undertaking necessary modifications in lieu of changed circumstances.
Sales Forecasts for Future
If the management and channel intermediaries predict bright sales prospects in the future for a particular territory then they will fix a higher sales quota for that territory.
Market Potentialities
The potentialities of the market are a significant factor in deciding sales quota. Macro and micro-environmental factors like consumer taste, liking, purchasing power, extent of competition, political, and legal factors, etc. are dimensions that affect sales possibilities to a great extent, and analysis of these factors helps calculate marketing possibilities of the entire industry succeeded by fixing total sales target of the firm. Finally, this sales target is distributed among different sales territories established by the enterprise.
Product Modification and Improvement
If a firm carries out product improvement at a large scale it can increase its quota to that extent. 5. Advertising and Sales Promotion: If a firm adopts an aggressive promotion policy in a particular territory then it can fix a higher sales quota for that territory.
Production Capacity
The production capacity of the firm is kept in mind while setting sales quotas. If the company intends to enhance its production capacity then the sales quota is raised accordingly.
Ability of Salesmen
If the enterprise has an experienced and professional sales team it can establish higher quotas.
Level of Competition
The fixation of quota largely depends on the intensity of competition. If the company is facing intense competition along with the entry of fresh, new competitors, sales are expected to be adversely affected and hence a lower sales quota may be fixed. On the other side, if the company is a market leader then a higher sales quota may be fixed.
Changes in Marketing Policy and Strategy of an Enterprise
The firm's strategies largely govern the setting of quotas. Suppose the firm plans to follow a penetration pricing strategy then it will set higher quotas.
Changes in Marketing Policies and Strategies of Competitors
All business enterprises are directly affected by competitors. In situations where competition is aggressive and competitors change their marketing strategies and bring in price cuts or launch cost-effective new models, the firm will have to set lower quotas.
Changes in Purchasing Power of Customers
Higher buying capacity of the target market results in the setting of higher quotas.
---
Procedures for Setting Sales Volume Quotas
Various methods are used by companies in setting sales quotas. The quotas are established based on territory sale potential, complete market estimates, executive judgment, sales force estimates, and compensation plans.
The sales volume quota depicts quota-setting procedures well as it is the most commonly used type however, at the same time the same method can be extended for the other types as well. Popular procedures used to set volume quotas include: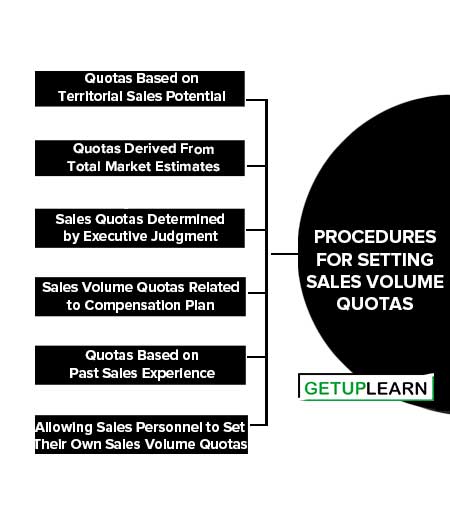 Quotas Based on Territorial Sales Potential
The most prevalent practice in quota setting is to relate quotas directly to the sales potential of the territory. This approach is apt when territorial potentials are decided in relation to territorial design, or bottom-up planning procedures are utilized in calculating estimated sales in the sales forecast.
For example, if the sales potential in territory X is Rs.3,00,000, or 5 percent of the total firm potential, then management may decide to allot this amount as a salesperson's quota for his assigned territory. The sum total of all territorial quotas then would be equal to the firm's sales potential.
Quotas Derived From Total Market Estimates
Sometimes organizations neither have statistics nor sales force estimates of territorial sales potentials to base their quota upon. In such cases, companies use top-down planning and forecasting to arrive at the sales estimate for the whole company.
To determine quota, the sales head may either breakdown the total company sales estimate, calculated by various indexes of relative sales opportunities in each territory, and then make adjustments or translate the company sales estimate into an organization sales quota (by considering projected changes in marketing-mix variables like product, price, promotion and other policies) and then break down the company volume quota, by involving an index of relative sales opportunities in each territory.
Sales Quotas Determined by Executive Judgment
Management judgment is a vital ingredient in sound quotas establishment, but relying solely on it is not recommended.
Executives may set quotas purely on the judgment in case limited information exists like, no sales forecast is available, or the product is new and thus its market acceptance is unknown or there exists no practical procedure to decide territorial sales potential.
The executive may be very experienced still too much risk is involved in relying on this factor alone without using quantitative market measures.
Sales Volume Quotas Related to Compensation Plan
Management sometimes set sales volume quotas purely upon the projected remuneration that companies wish to offer to the sales personnel rather than basing it on potential. In the situation where a firm prefers to pay its sales representatives by straight commission but realizes that the sales personnel prefer a salary-plus-commission plan, the firm adopts a combination plan.
Under it, with a salary of Rs,5,000 per month and a commission of 10 percent on total sales over Rs.50,000 a month, by using the quota, management attains its preference for a straight commission as no commission is paid until the salary is recouped (10 percent of Rs.50,000 equals Rs.5000).
Quotas Based on Past Sales Experience
Few firms work on the principle of exceeding last year's sales figures as a consequence sales volume quotas are established purely on the last year's sales or in some cases on an average of sales over a period of three or five years.
The advantage of this method is estimation simplicity and low-cost administration but the method has many limitations.
This method does not take into account probable changes in the territorial sales potential, does not uncovers poor performance in a given territory, and also tends to discourage sales representative morale by sending the message that the more they sell, the more they are supposed to sell.
Allowing Sales Personnel to Set Their Own Sales Volume Quotas
This is an uncommon method and is primarily used by firms expanding into new geographic territories. In situations where it is difficult to project sales, companies engage their sales force to set quotas for initial one or two years. This way, salesmen become responsible for determining their own performance standards.
The company officials are of the opinion that sales personnel being closest to their territories will set more realistic quotas, will complain less, and work harder towards attaining them.
Limitations arise when the sales force is uninterested in setting their own quotas or they overestimate or underestimate their capabilities and set unrealistic high or low quotas. Quotas established unrealistically high or low by the sales force cause dissatisfaction and affect sales force morale.
---
Requisites of Successful Quota System
Given below are a few requisites of successful quota systems: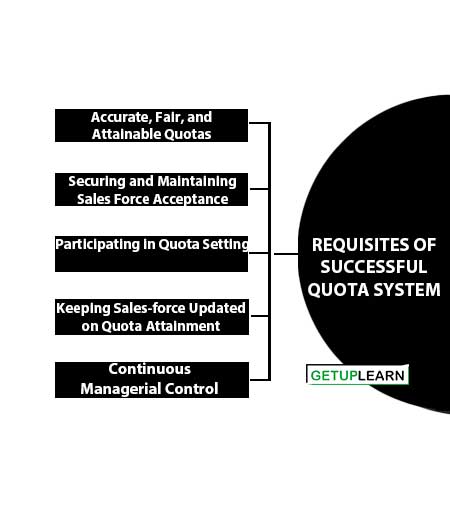 Accurate, Fair, and Attainable Quotas
Sales quotas set in synergy with the territory market potential are considered as realistic and salespeople in such situations feel motivated to work and accomplish their quotas.
According to Still and Cundiff, "Accurate quotas result from skillful blending of planning and operating information with sound judgment" while John P. Steinbrink states, " Setting unrealistic quotas that cannot be met only results in a morale problem and serves no useful purpose.
Too often, management is guilty of fooling itself by putting down figures that are no more than wishful thinking." In practice, whether quotas are realistic and attainable depends not only upon the quality of management's judgment but also on the capabilities and efforts of the sales force.
Securing and Maintaining Sales Force Acceptance
Organizations should ensure that the sales force understand quotas and quota-setting procedure. It is crucial that sales representatives understand the significance of quotas as communicators of "how much to be sold in what period", as well as also consider their quotas fair and achievable.
Thus the quota-setting procedures should be simple enough for the sales person to understand and at the same time be sophisticated to permit acceptable accuracy.
Participating in Quota Setting
Sales' participation in quota setting ensures ease in understanding and attaining quotas. When salespeople set their own quotas they are more convinced about its fairness.
However, it is not advisable to hand over the complete quota-setting job to the sales staff, but a certain amount of involvement by the sales force can provide more realistic and accurate quotas.
Keeping Sales-force Updated on Quota Attainment
For efficient sales management, it is important to keep sales personnel informed about their progress related to quotas. Usually, salespeople receive frequent reports detailing their performance to date which helps them in analyzing their strengths and weaknesses and taking corrective action.
Frequent personal contacts with the supervisor as well as detailed regular reports on salesperson performance provide advice, encouragement, and occasional warnings to salespeople to take measures to improve their performance.
Continuous Managerial Control
There is a requirement for continuous monitoring of performance in administering the quota system. The proper record needs to be in place for collecting and analyzing performance statistics without delay. Individual salesperson performance is properly documented against quota on a monthly basis, or sometimes weekly basis to facilitate analysis.
Efficient management continuously reviews and appraises the operation of the system and makes the needed changes. Flexibility in quota administration is required, if a quota is proving unrealistic, it should be adjusted.
---
FAQs About the Sales Quotas
What is the definition of sales quota?
A sales quota is a part of a company's total estimated sales assigned to a salesman, a territory, a branch, a distributor or dealer, or to some other selling unit, as a goal to be attained in a designated future period of time. by Paul H. Nystrom
What is a Sales Quota?
Sales quotas are quantitative objectives assigned to the sales personnel and other units of the selling organization.
What are the objectives of sales quotas?
The following are the objectives of sales quotas:
1. To Indicate Strong or Weak Spots in Selling Structure
2. To Furnish Goals and Incentives for Sales Force
3. To Control Salespeople's Activities
4. To Evaluate the Productivity of Salespeople
5. To Improve the Effectiveness of Compensation Plans
6. To Control Selling Expenses
7. To Evaluate Sales Contest Results.
What are the factors affecting sales quotas?
Factors affecting the determination of sales quotas are:
1. Sales Quotas of Last Year
2. Sales Forecasts for Future
3. Market Potentialities
4. Product Modification and Improvement
5. Production Capacity
6. Ability of Salesmen
7. Level of Competition
8. Changes in Marketing Policy and Strategy of an Enterprise
9. Changes in Marketing Policies and Strategies of Competitors
10. Changes in Purchasing Power of Customers.