What is Procurement Management?
Public procurement management (PP) is a cornerstone of good governance. It cuts across all economic sectors and constitutes around 15-30% of the gross domestic product in all countries. Hence its significance for enhancing market competitiveness and sustainable development.
Setting up effective national PP systems has often been a challenge, not least because of a deficit in competent human resources and the need to keep up-to-date with the ever-increasing complexity of the legal framework, the globalization of markets, and sophisticated contractual and tendering mechanisms.
The Centre has also actively supported national procurement reform worldwide through assistance with the setting up or modernization of the four pillars of effective national PP systems, namely:
Legal framework;

Institutional framework;

Administrative and managerial processes and systems, including bidding documents and training systems;

Market competitiveness and systems for detection and prevention of fraud and corruption.
---
How Does Procurement Management Works?
Following are the four main working areas of concern when it comes to procurement management. The following points should be considered whenever the procurement process is involved:
Not all goods and services that a business requires need to be purchased from outside. It is for this reason that it is very essential to weigh the pros and cons of purchasing or renting these goods and services from outside.


You would need to have a good idea of what you exactly require and then go on to consider various options and alternatives. Although there may be several suppliers, who provide the same goods and services, careful research would show you which of these suppliers will give you the best deal for your organization.


The next step typically would be to call for bids. During this stage, the different suppliers will provide you with quotes.


After the evaluation process, you would be able to select the best supplier. You would then need to move on to the step of discussing what should go into the contract. Remember to mention all financing terms how you wish to make the payments, and so on, so as to prevent any confusion arising later on, as this contract will be binding.
---
Procurement for Project Managers
Projects often require the acquisition of goods or services to be successful. A make-lease-buy decision, as a part of the acquisition strategy, can critically impact a project's benefits and outcome.
Formulate the make-lease-buy decision; prepare an effective procurement management plan to guide the team, and use outsourcing and partnering for maximum benefit. The steps involved are:
Conduct a make-lease-buy analysis
Prepare a procurement management plan
Identify strategic advantages of specific contract types
Use outsourcing effectively
Establish a partnering program
Perform a successful evaluation
Steps involved in procurement include:
Plan Procurements

Planning procurements and acquisitions
Conducting make-lease-buy analyses



Conduct Procurements

Sources of prospective sellers
Negotiation strategies to enhance the position
Reaching an agreement during procurement negotiations



Administer Procurements

Roles and responsibilities: project team, contracting organization, and sellers



Close Procurements

The procurement closure process
Contract documentation
Formal acceptance and closure for sellers
---
How to Develop a Public Procurement Training Program?
While the idea of developing or redesigning a training program can be daunting, you probably already have many of the skills needed to tackle this project. The questions you have to answer and the process you have to follow should seem familiar to anyone with procurement experience.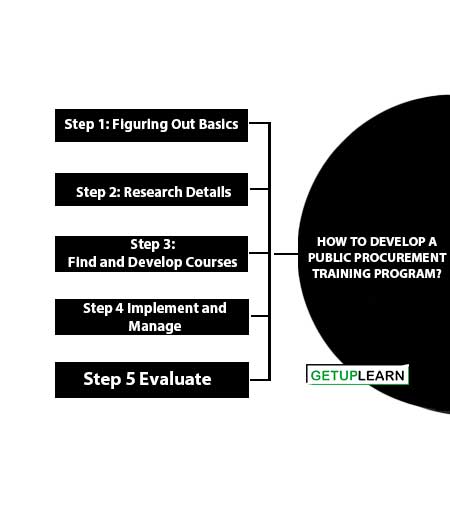 Step 1: Figuring Out Basics
Let's say a decision has been made to design a new municipal building, and you're put in charge of guiding the construction. You'll need to know some basic facts before you begin the procurement process itself, such as:
The budget

The purpose of the new building

Other staff members, if any, who can assist with the procurement process

Deadlines
Step 2: Research Details
Once you've determined the basic parameters of your building project, you'll need to do some research probably with the assistance of a designer to get a clear idea of what should be included in your specifications and scope of work. Similarly, you need to spend time and effort determining what content should be included in your procurement training program.
Step 3: Find and Develop Courses
There are several reputable organizations that already offer courses related to procurement generally and public procurement specifically, such as NIGP, ISM, and NAEP. You will need to determine which of your learning objectives can be best taught through these outside sources, and which of your learning objectives may be better taught through training developed by your own staff members.
(Some issues to consider: (1) cost to purchase from outside sources, (2) cost to develop and administer "in-house," (3) location and travel costs, and (4) quality of instruction. When evaluating outside course offerings, use your procurement experience: be clear about what you're looking for, and evaluate fairly.
Step 4 Implement and Manage
After the municipal building construction contract has been awarded and executed, we'll need to determine how to manage it: what are the deadlines? What are your responsibilities under the contract?
What are the contractor's responsibilities? And once when the project is underway, we have to manage it: make sure the deadlines are met and that problems are dealt with in a timely manner.
Step 5 Evaluate
As our construction project is underway, the people supervising the construction will constantly evaluate our contractor's performance.
You should have a system in place to record and track those evaluations so you know how the project is progressing, so you can deal with any problems before they get out of hand, and so you know whether you'd like to work with the contractor in the future. The same holds true for our public procurement
---