---
Techniques of Sales Forecasting
The sales forecasting method is a procedure for estimating how much of a given product can be sold if a given marketing program is implemented. No sales forecasting method is full-proof. Well-managed companies do not rely upon a single sales forecasting method but use several.
The following are the techniques of sales forecasting used: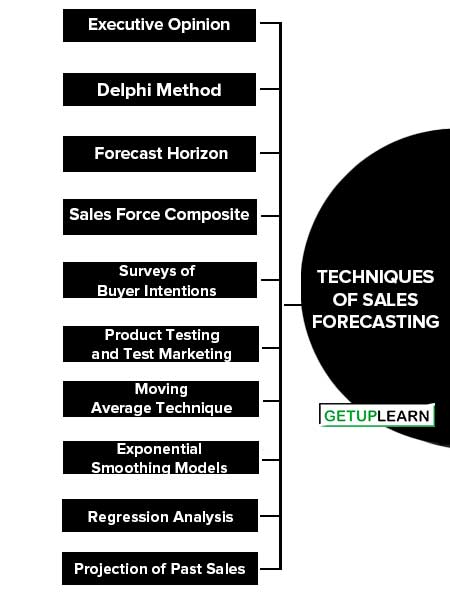 Survey Methods
Survey methods rely on the opinions of experts, such as salespeople, sales executives, and the customers who will be making purchase decisions.
Executive Opinion
It consists of obtaining the views of top executives regarding future sales – views that may or may not be supported by facts.
Some executives may have used forecasting methods to arrive at their opinions. Others may have formed their estimates largely by observation, experience, and institution.
The forecasts made by the executives are averaged to yield one forecast for all executives, or the differences are reconciled through discussions among executives. If these are informed opinions, based on valid measures such as market-factor analysis, then executive judgment can produce accurate forecasts.
Delphi Method
This is a specialized form of 'executive opinion'. According to William Stanton the Delphi method begins with a group of knowledgeable individuals anonymously estimating future sales. Each person makes a prediction without knowing how others in the group have responded.
These estimates are summarized, and the resulting average and range of forecasts are fed back to the participants. Now, knowing how the group responded, they are asked to make another prediction on the same issue
Participants may change or stick with their original estimates. This process of estimates and feedback is continued for several rounds. In some cases and usually in sales forecasting the final round involves face-to-face discussions among the participants to produce a sales forecast consensus.
Sales Force Composite
This method is based on collecting an estimate from each salesperson of the products they expect to sell in the forecast period.
The estimate may be made in consultation with sales executives and customers and based on the salesperson's intuition and experience. The individual forecasts are then aggregated to yield an overall forecast for the firm. This method is sometimes termed a 'grass- root' approach.
Surveys of Buyer Intentions
This method consists of contacting potential customers and questioning them about whether or not they would purchase the product at the price asked. Sometimes this is referred to as the market research method. For industrial products, where there are fewer customers, such research is often carried out by the sales force on a face-to-face basis.
Some firms maintain panels of consumers for use in such surveys. Salespeople may be asked to survey customers regarding their future buying intentions.
This method is probably most accurate in forecasting demand when (1) there are relatively few buyers in the target market, (2) these buyers are willing to express their buying intentions, and (3) their past record shows a consistent relationship between their actual buying behavior and their stated intentions.
Product Testing and Test Marketing
This technique is of value for new or modified products for which no previous sales figures exist and where it is difficult to estimate likely demand.
It is therefore prudent to estimate the likely demand for the product by testing it on a sample of the market beforehand. It involves the limited launch of a product in a closely defined geographical test area. Test market results can be grossed up to predict the national launch outcome.
Mathematical Methods
Mathematical methods apply mathematical and statistical techniques to historical data to forecast sales. These include the following:
Moving Average Technique
The simplest way to forecast sales is to predict that sales in the coming period will be equal to sales in the last period and it assumes that the conditions in the last period will be the same as the conditions in the coming period. It is likely, however, that the factors affecting sales change from period to period.
Hence, it makes sense to take an average of sales from several periods to construct the sales forecast for the coming period. In the moving average technique, the sales of the designated periods are summed and then divided by the number of periods to yield the average.
Exponential Smoothing Models
This is a statistical technique for short-range sales forecasting. It is a type of moving average that represents a weighted sum of all past numbers in a time series, with the heaviest weight placed on the most recent data.
Regression Analysis
This technique is often used to project sales trends into the future. In this method, sales totals are plotted for each past time period. This technique is a statistical process. It determines and measures the association between company sales and other variables.
There are three major steps in forecasting sales through regression analysis:
Identify variables casually related to company sales.

Determine or estimate the values of these variables related to sales.

Derive the sales forecast from these estimates.
Where sales are influenced by two or more independent variables acting together, multiple regression analysis techniques are applied. Computers make it easy to use regression analysis for sales forecasting.
Projection of Past Sales
The projection of past sales method of sales forecasting takes a variety of forms:
One is to set the sales forecast for the coming year at the same figure as the current year's actual, sales.

The forecast may be made by adding a set percentage to last year's sales.

It may be a moving average of the sales figures for several past years.
Time series Analysis, Market Factor Analysis, Correlation Analysis, and Z charts are other techniques that can be used to forecast sales depending upon the purpose of the forecasts.
Operational Methods
Operational methods take information about the company's capacity and financial requirements to derive sales forecasts. A few operational techniques which are used are 'Must do' calculation, capacity-based forecasts, Econometric model building, simulation, diffusions models, etc. The choice of the technique will depend on the purpose, cost, time, and urgency of the forecast.
---
FAQs About the Techniques of Sales Forecasting
What are the techniques of sales forecasting?
The techniques of sales forecasting are:
1. Executive Opinion
2. Delphi Method
3. Sales Force Composite
4. Surveys of Buyer Intentions
5. Product Testing and Test Marketing
6. Moving Average Technique
7. Exponential Smoothing Models
8. Regression Analysis
9. Projection of Past Sales
10. Operational Methods.