What is Performance Appraisal?
Performance appraisal includes all formal procedures used to evaluate the personalities and contributions and potentials of group members in a working organization. It is a continuous process to secure information necessary for making correct and objective decisions on employees.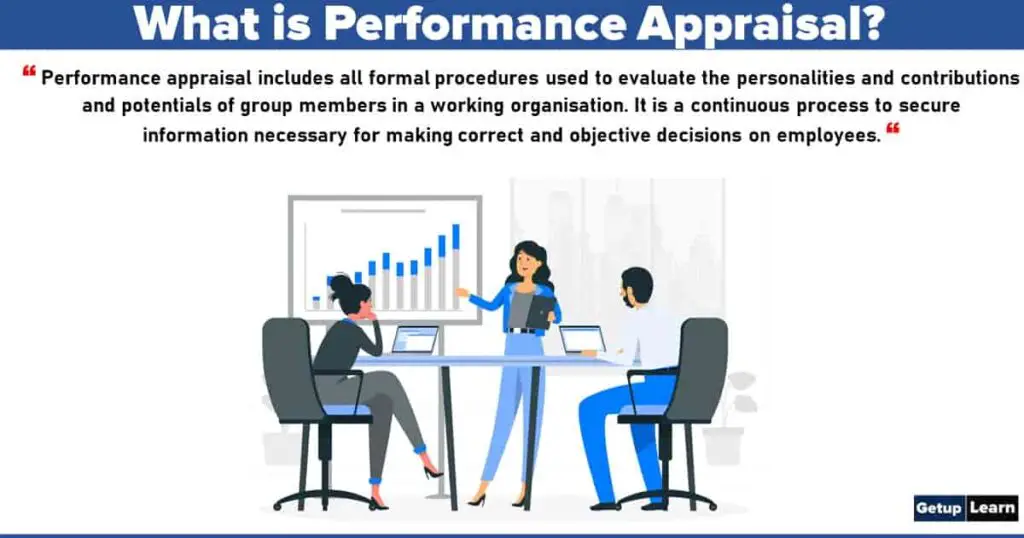 Meaning of Performance Appraisal
Performance appraisal is one of the most important tasks performed by a manager. It is an integral part of the system of management. It forms the basis for several important decisions concerning employees. These decisions may concern determining employee training requirements, salary increments, promotion, etc.
However, making an assessment of employees' performance is a complex and delicate taste. It is not always easy to judge a subordinate's performance accurately. Further, it is even more difficult to convey that judgment to the subordinate in a constructive and painless manner.
To ensure rational appraisal of employee performance, a formal system of performance appraisal has been developed by modern-day organizations. Performance appraisal implies systen1atic or formal evaluation of the individual with respect to his performance on the job and his potential for development.
It is the rational and continuous process of evaluating the performance of employees on a particular job in terms of the job requirements. Dale Yoder defines as, performance appraisal consists of "all formal procedures used in working organization to evaluate personalities and contributions and potentials of group members".
---
Importance of Performance Appraisal
Performance appraisal is important in organizations because of the numerous purposes for which it is employed and its impact on individuals as well as the organization. The following are importance of performance appraisal: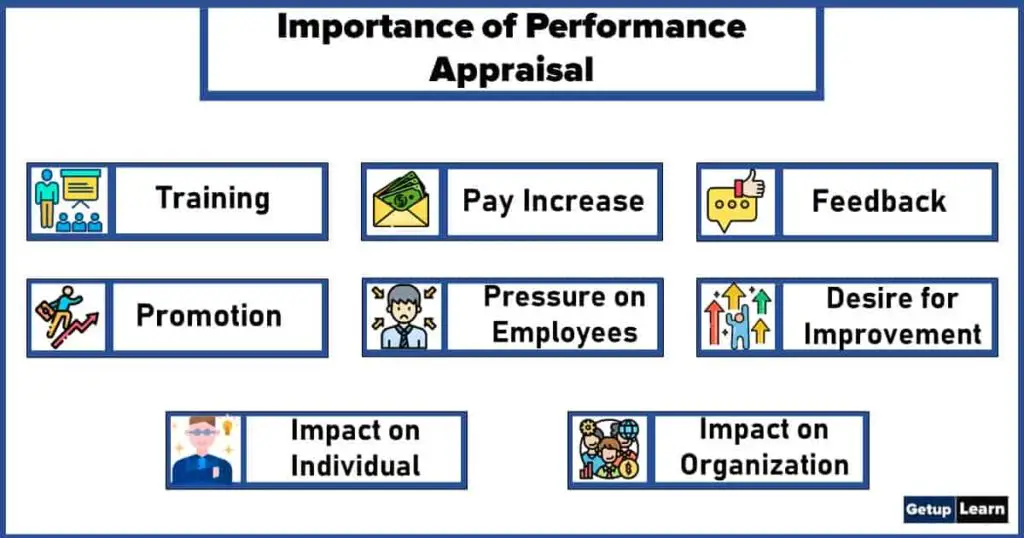 Training
Performance appraisal tries to identify the strengths and weaknesses of an employee in his present job. This information can be used for devising training and development programs appropriate for overcoming the weaknesses of the employees. In fact, many organizations use performance appraisal as means of identifying the training needs of their employees.
Pay Increase
Performance appraisal plays a significant role in making decisions about pay increases. The salary increase of an employee depends on how he is performing his job. There is continuous evaluation of his performance either formally or informally. In a small organization, since there is a direct contract between the employee and the one who makes decisions about salary increases, performance appraisal can be an informal process.
In a large organization, where such a contract hardly exists, a formal performance appraisal has to be undertaken. This may disclose how well an employee is performing and how much he should be compensated by way of a pay increase.
Feedback
The person who gets feedback about his performance and may try to overcome his deficiencies will lead to better performance. Performance appraisal provides feedback to employees about their performance. It tells them where they stand. A person works better when he knows how he is working; how his efforts are contributing to the achievements of organizational objectives.
Promotion
Most organizations often use a combination of merit and seniority for promotion. Performance appraisal discloses how an employee is working in his present job and what are his strong and weak points. In the light of these, it can be decided whether he can be promoted to the next higher position and what additional training will be necessary for him. Performance appraisal can be used for transfer demotion and discharge of an employee.
Pressure on Employees
Performance appraisal puts psychological pressure on people to improve job performance. If the employees are conscious that they are being appraised in respect of certain factors and their future largely depends on such appraisal, they tend to have positive and acceptable behavior in this respect.
Desire for Improvement
Performance appraisal promotes a desire for improvement among employees. The confidence and morale of employees are increased when they are convinced that management evaluates them impartially and rewards individual performance. By creating a desire to be related high, performance appraisal stimulates a higher level of performance on the part of employees.
Impact on the Individual
Because of the importance of performance appraisals to employees, the appraisal methods used and the manners in which results are communicated can have positive or negative effects on employees' morale. When appraisals are used for discipline, pay increases, promotions, discharges, or layoffs, they are likely to be regarded with apprehension by those employees who tend to underestimate themselves, by the less productive members of the organization, or by those who feel appraisals will be arbitrary or unjust.
Similar feelings result when employees don't know or understand the criteria being used to assess them, or when they see the appraisal as overly critical rather than helpful. More employees understand the appraisal process, and the more appraisals are used as developmental opportunities rather than occasions for criticism, the more they need for self-actualization will be satisfied.
Impact on the Organization
The performance appraisal system has major effects on the organization. In addition to such matters as making compensation and promotion decisions and in providing feedback on performance, the results of the appraisal process can supply useful data about the success of other personnel activities such as recruiting, selection orientation, and training.
If the appraisal process reveals that a significant number of employees are deficient in some area of skill or knowledge modifications can be made in these other personnel areas. In large organizations, the results of appraisals are often used as criteria to study the validity of selection procedures. Performance appraisal facilitates various decisions concerning manpower planning and development.
---
Objectives of Performance Appraisal
The following are the objectives of Performance Appraisal:
Compensation Decisions
It can serve as a basis for pay raises. Managers need performance appraisal to identify employees who are performing at or above expected levels. This approach to compensation is at the heart of the idea that raises should be given for merit rather than for seniority. Under merit systems, the employee receives raises based on performance.
Promotion Decisions
It can serve as a useful basis for job change or promotion. When merit is the basis for reward, the person doing the best job receives the promotion. If relevant work aspects are measured properly, it helps in minimizing feelings of frustration of those who are not promoted.
Training and Development Programs
It can serve as a guide for formulating a suitable training and development program. Performance appraisal can inform employees about their progress and tell them what skills they need to develop to become eligible for pay raises or promotions or both.
Feedback
Performance appraisal enables the employee to know how well he is doing on the job. It tells him what he can do to improve his present performance and go up the 'organizational ladder'.
Personal Development
Performance appraisal can help reveal the causes of good and poor employee performance. Through discussions with individual employees, a line manager can find out why they perform as they do and what steps can be initiated to improve their performance.
---
Need of Performance Appraisal
An organization undertakes performance appraisal for many reasons. According to the area where the performance appraisal results would be used, a particular performance appraisal technique would be adopted. The following are some of the areas where the results of performance appraisal are used. These are the need of performance appraisal: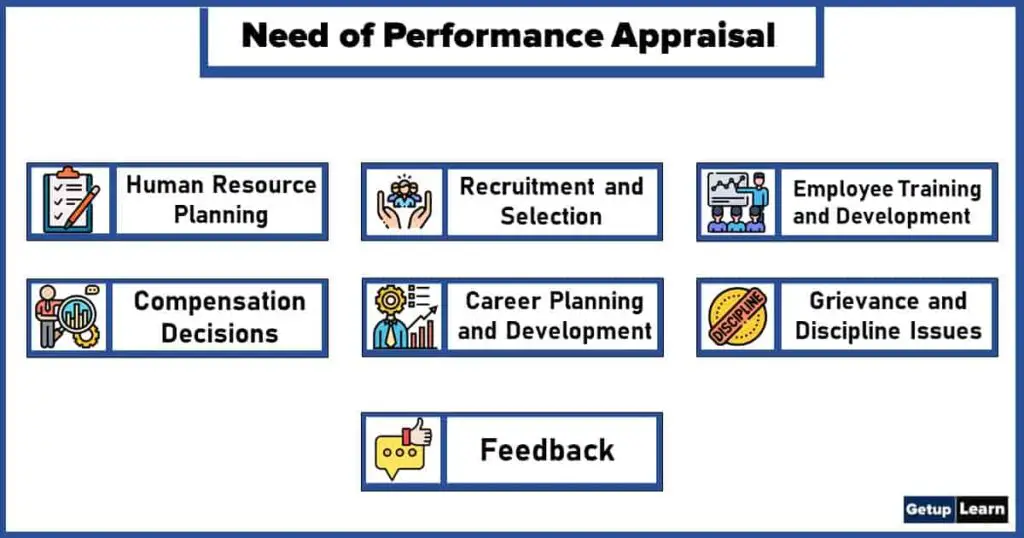 Human Resource Planning
Human Resource Planning involves forecasting and developing manpower requirements of the organization to meet the strategic goals of the organization. Performance appraisal helps the organization to assess the available manpower in an effective manner and plan human resource programs and anticipate future labor requirements. It also helps in preparing a profile of strengths and weaknesses for supporting strategic missions and goals.
Recruitment and Selection
The performance appraisal techniques help in predicting the likely performance of candidates when they are transferred or promoted from their current positions. The scores which are generated from various tools which are generated from various selection tools are used at the time of selection and are then compared with the scores generated from performance appraisal to determine the validity of selection tools. The tools used for performance appraisal are good at predicting the performance of the candidates.
Employee Training and Development
With the help of performance evaluation, the training that has to be given to a particular employee can be identified. This is so because; the performance evaluation tools help in identifying the shortcomings in the performance of employees and what skills they are lacking.
It also helps in determining if additional training and development programs have to be developed. It helps the organization in identifying the strengths of the employees and how their weaknesses can be reduced.
Compensation Decisions
Performance appraisal techniques provide reliable information for determining the pay scale of the employees. It helps the organization to reward behavior that contributes toward the accomplishment of organizational goals. It helps in identifying employees who are most efficient and rewards them in an appropriate manner.
Career Planning and Development
Performance appraisal helps in determining the career plans of employees. It helps in identifying the most qualified employees and enables promotions for such employees to higher levels. An organization may decide about transfers, layoffs, and such activities on the basis of the results of performance appraisal.
It also helps the organization to develop and implement career plans on the basis of the results of performance appraisal.
Grievance and Discipline Issues
Information from performance appraisal is used for decisions that are related to promotion, demotion, termination, layoffs, and transfers. The results of the performance appraisal are used to initiate such actions against the employees who are considered incompetent and have fared poorly in the performance appraisal.
The data obtained through the exercise of performance appraisal can also be used as an official document against the grievance which is formally filed in connection with disciplinary action filed by the employees against whom the actions have been initiated.
Feedback
Employees are generally interested to know the results of the performance appraisal to understand how their present performance is and how much has their performance improved when compared to the past. The feedback in form of performance appraisal results helps them to have a clear idea regarding their standing in the organization as related to performance rewards such as promotions.
The feedback which is received on time helps the employees in improving their job satisfaction and motivates them to perform in a better manner. Due to this, the cooperation and productivity of the employees improve.
---
Features of Performance Appraisal
The main features of performance appraisal may be listed thus:
The appraisal is a systematic process involving three steps:

Setting work standards.

Assessing employees' actual performance relative to these standards.

Offering feedback to the employee so that he can eliminate deficiencies and improve performance in course of time.



It tries to find out how well the employee is performing the job and tries to establish a plan for further improvement.


The appraisal is carried out periodically, according to a definite plan. It is certainly not a one-shot deal.


Performance appraisal is not a past-oriented activity, with the intention of putting poor performers in a spot. Rather, it is a future-oriented activity showing employees where things have gone wrong, how to set everything in order and deliver results using their potential in a proper way.


Performance appraisal is not job evaluation. Performance appraisal refers to how well someone is doing an assigned job, Job evaluation, on the other hand, determines how much a job is worth to the organization and therefore, what range of pay should be assigned to the job.


Performance appraisal is not limited to 'calling the fouls. Its focus is on employee development. It forces managers to become coaches rather than judges. The appraisal process provides an opportunity to identify issues for discussion, eliminate any potential problems, and set new goals for achieving high performance.


Performance appraisal may be formal or informal. The informal evaluation is more likely to be subjective and influenced by personal factors. Some employees are liked better than others and have, for that reason only, better chances of receiving various kinds of rewards than others. The formal system is likely to be fairer.
---
Criteria for Performance Appraisal
Deciding the criteria for undertaking performance appraisal is often a very difficult task as what aspects of an employee's performance are to be considered is to be decided. The following are the criteria that are considered by the organization on the basis of which performance appraisal is undertaken: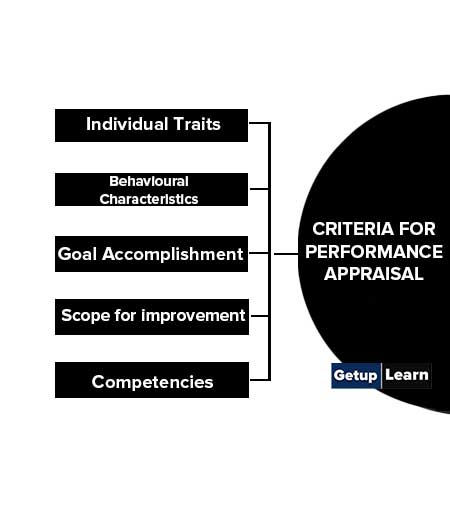 Individual Traits
Employee attributes such as attitude, outlook, and initiative can form the basis of performance appraisal. But these all are subjective terms and they should be considered and evaluated in a proper manner. If this is not done, then there would be inaccuracy in the performance appraisals which would be undertaken.
Behavioral Characteristics
The behavior of a person is an aggregate of responses, reactions, or movements made by a person in any situation. It is generally very difficult to evaluate the performance of a person, but generally, such evaluation is done on the basis of certain standard task-related behavior or competencies.
Such evaluation is undertaken for leadership styles, teamwork, commitment, or customer care. Behavior that contributes to the overall growth of the organization is identified and rewarded.
Goal Accomplishment
Successful accomplishment of goals is considered for evaluating the performance of employees. The outcomes of those goals that contribute to the success of the organization can be ideal appraisal criteria. The goals may be profit, cash flow, or marketing goals like desired sales, achieving target market share or standing in the market, or total quality management. But it is very essential that employees should be included while fixing goals for evaluation.
Scope for improvement
Performance appraisal criteria may focus on assessing the future potential of the employees. Proper evaluation of the potential of the employees helps in designing a career path for them in a systematic manner.
Competencies
The competency of an employee is the quality of being well qualified physically and intellectually. Competency is an attempt to evaluate the job-related knowledge, skills, qualities, ethical values, flexibility, and sense of judgment that contribute to job success.
The competencies of employees can be evaluated on the basis of the contribution of the employee towards the organization's goals, their knowledge of business, how they demonstrate credibility, how efficiently and effectively services are provided to the customers, and the use of technology for delivering value to customers.
It should be noted that there are no universally accepted job-related criteria which are used for performance appraisal. The criteria used generally differ and depend on the nature of the job, purpose, and situation. The criteria to be used should be carefully selected otherwise the purpose of performance appraisal cannot be achieved.
---
FAQ Section
What is performance appraisal for example?
We can say that performance appraisal is expected to result in an assessment of the development potential of the employees, training needs for the employees; capabilities of employees being placed in higher posts, behavior, and obedience of the employees; and the need of the organization to evolve a control mechanism.
What is the importance of performance appraisal?
These are the importance of performance appraisal:
1. Training
2. Pay Increase
3. Feedback
4. Promotion
5. Pressure on Employees
6. Desire for Improvement
7. Impact on the Individual
8. Impact on the Organization etc.
What are the objectives of performance appraisal?
Performance appraisal also has some objectives which differ from organization to organization:
1. Increment in Salary
2. Promotion
3. Training and Development
4. Feedback
5. Stress on Employees etc.