MBO programs can vary enormously. Some are designed for use in a subunit, while others are used for the organization as a whole. The particular methods and approaches that managers use in an MBO program will differ. There also may be wide differences in emphasis.
Therefore the process of MBO requires rigorous analysis, clarity and balance of objectives and participation of managers with the accountability for results.
Process of MBO
These are the steps included in process of MBO: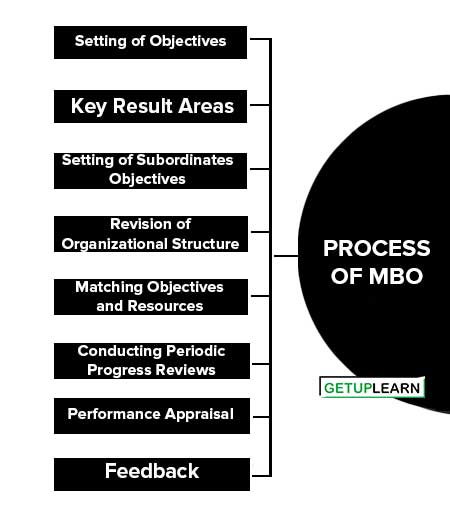 Setting of Objectives
The first step of the MBO process is to establish verifiable objectives for the organization and for various positions at various levels. Without having a clear objective no group or individual can perform effectively or efficiently. One of the major criteria to set clear objectives is the scope of measuring it.
Therefore, objectives should be set in such a way that they provide a clear direction to the people who have to contribute and perform for the achievement of the same. It is always desirable to have a participatory approach to setting objectives.
However, management aspirations and expectations should be kept in view while adopting a participatory approach to set objectives.
Setting precise, measurable, and well-defined objectives is indeed a difficult task. It requires intelligent input from superiors and practice and team effort on the part of subordinates. Objectives should:
Be verifiable

Indicate the time frame within which they are to be achieved.

Indicate the associated cost involved.

Indicate quantity and quality aspects of the expected achievements.

Help in promoting personal and professional growth and development.

Get duly communicated to all who are concerned with it.

Align short-term objectives to medium and long-term objectives.

Give due importance to the views of individuals expected to contribute to the achievement of objectives at the time of setting objectives.
Key Result Areas
Organisational objectives and planning premises together provide the basis for the identification of key-result areas. Key-result areas are derived from the expectations of the various stakeholders and indicate priorities for organisational performance.
They indicate top management perspectives for the future and the present state of health of the organisation. These are the areas in reference to which organisational health may be measured or appraised for example:
Profitability

Market standing

Innovation

Productivity, etc. These areas are not the same for every organisation. They differ from organisation to organisation, depending upon various internal and external environmental factors.
Setting of Subordinates Objectives
Organisational objectives are achieved through individuals. Therefore, every individual must know in advance what he is expected to achieve. Objectives for each subordinate should be set in consultation between that subordinate and his or her supervisor. A degree of recycling is required in setting objectives.
This means that a degree of interaction, consultation, and discussion among top-level managers, departmental heads, superiors and subordinates is necessary. In such joint consultations, subordinates help managers develop realistic objectives since they know best what they are capable of achieving.
Managers help subordinates "raise their sights" toward higher objectives by showing a willingness to help them overcome obstacles and confidence in subordinates' abilities.
Revision of Organizational Structure
When the goals for each individual are reset under MBO there is a considerable change in the job description of various positions. This may call for a revision of the existing organisational structure. The organization charts and manuals should be suitably amended to depict the change brought about by the introduction of management by objectives.
The job description of various jobs must be defined with their objectives, responsibilities, and authority. They must clearly lay down the relationship with other job positions in the organization.
Matching Objectives and Resources
It should be noted that without a proper balance between the objectives and resources, the achievement of goals will be difficult. Hence, the superiors must ensure a combination of goals with available resources.
All managers at various levels require these resources to accomplish their goals. By relating these resources to the goals themselves, superiors can better see the most effective and economical way of allocating them.
Conducting Periodic Progress Reviews
Management by objectives ensures periodic meetings between the superior and the subordinate to review the progress towards goal attainment. For this, the superior must establish checkpoints or standards of performance for evaluating the progress of the subordinate. The reviews should be held monthly or quarterly.
These reviews serve as a built-in feedback mechanism for an MBO system. Since individual or group goals are specifically defined, usually in quantifiable terms, employees can compare their progress at review time against the specified goals.
This periodic check-up allows managers and employees to see whether they are on target or whether some change is necessary. During the review, managers and employees decide what problems exist and what they can do to resolve them.
Performance Appraisal
While informal performance appraisal of a subordinate is done by his immediate superior almost everyday, formal appraisal at periodic intervals, usually once or twice a year, does ensure that a thorough evaluation of a manager's performance is done and his achievements are carefully analyzed against the background of prevailing circumstances and given objectives.
The design and format of the performance review form will depend on the nature of the enterprise. Performance appraisal can serve three purposes:
Feedback to employees concerning their actual performance

Provide the basis for identifying more effective job behaviour.

Supply information to managers relevant to future job assignments and to compensation decisions.
Feedback
On the basis of the overall evaluation, the feedback is provided to higher levels of the hierarchy. Feedback information helps in taking decisions to make necessary changes in the MBO programme and to shape goals for the next year. The MBO cycle repeats itself on an annual basis.
---
FAQ Related to the Process of MBO
What is the process of MBO?
The following are the steps which involve in the process of MBO:
1. Setting of Objectives
2. Key Result Areas
3. Setting of Subordinates Objectives
4. Revision of Organizational Structure
5. Matching Objectives and Resources
6. Conducting Periodic Progress Reviews
7. Performance Appraisal
8. Feedback.