What is Total Quality Management?
Increased competition due to globalization has resulted in quality consciousness among companies. Customers would readily shift to competitors' products if they are not satisfied with the quality. The concept of total quality management (TQM) is largely becoming popular among business organizations around the world.
TQM is a comprehensive and structured approach to organizational management that seeks to improve the quality of products and services through ongoing changes in response to continuous feedback. The focus of the process is customer satisfaction and involves the participation of all the employees in continual improvement.
Different organizations may set their own standards for maintaining quality. Some follow established international standards like International Organization for Standardization's ISO 9000 series. Though it originated in the manufacturing sector, TQM can be applied to any type of organization.
---
Characteristics of TQM
These are the some important characteristics of TQM: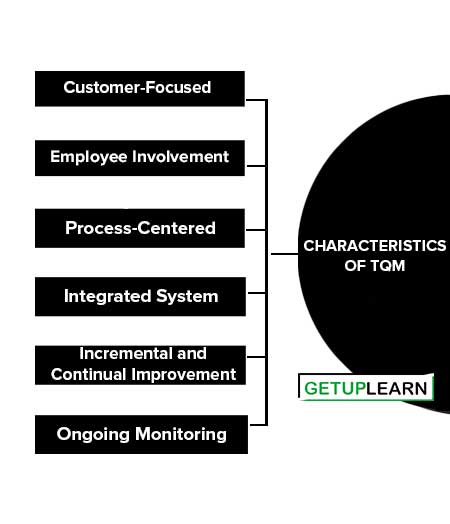 Customer-Focused
The quality of the product is required for customers, therefore they are the main focus of the process of TQM. An organization tries to improve its processes by various methods that involve improving processes through better technology, better quality of raw materials and components, upgrading machines, or training employees to improve their skills.
Every effort is directed towards improving quality for customer satisfaction. Ultimately, the customer determines whether the efforts made by organizations were able to fulfill the purpose.
Employee Involvement
Processes are ultimately handled by employees. Therefore TQM cannot be achieved without employee commitment to improving quality. Employees must be empowered to practice the new methods that they have learned. A high-performance work environment can be created by empowerment and openness.
Process-Centered
TQM focuses on the improvement of processes. The production process involves procuring inputs from suppliers (internal or external), converting them into outputs (products or services), and delivering them to customers (internal or external).
A process is a series of steps that follow one another. The steps required to carry out the process are defined and performance measures are set and continuously monitored to identify any deviation from standards.
Integrated System
An organization functions at various levels. There are different levels of management middle and lower levels. Various functions are carried out in different departments that may be seen as vertical levels.
All these levels need to be integrated and must work in a coordinated fashion. TQM aims at interconnecting these horizontal and vertical levels.
Incremental and Continual Improvement
TQM aims at continual improvement. It leads to small improvements in organizational processes all the time to remain competitive and meet customers' and stakeholders' expectations.
Ongoing Monitoring
To find out how well an organization is performing, it is essential to continuously measure performance on a continuous basis. This is essential in order to identify deviations, improve decision-making accuracy, and make forecasts on the basis of past history.
---
FAQs Section
What are the characteristics of TQM?
These are the characteristics of TQM given below:
1. Customer-Focused
2. Employee Involvement
3. Process-Centered
4. Integrated System
5. Incremental and Continual Improvement
6. Ongoing Monitoring.