The performance appraisal is the process of evaluating the performance and competencies of the employees in terms of the requirements of the job for which he is employed, for the purpose of administration including placement, selection for promotions, providing financial rewards, and other actions which require differential treatment among the members of a group as distinguished from action affecting all members equally.
Uses of Performance Appraisals
Performance appraisal may also be defined as any procedure that involves (i) setting work standards (ii) assessing the employee's actual performance relative to these standards (iii) providing feedback to the employee with the aim of motivating that person to eliminate performance deficiencies or to continue to perform above par.
These are the uses of performance appraisals in organizations: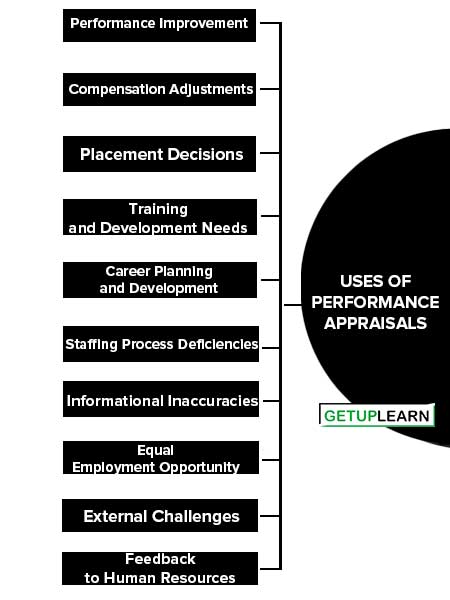 Performance Improvement
Performance feedback allows the employee, the manager, and personnel specialists to intervene with appropriate actions to improve performance.
Compensation Adjustments
Performance evaluations help decision-makers determine who should receive pay raises. Many firms grant part or all of their pay increases and bonuses on the basis of merit, which is determined mostly through performance appraisals.
Placement Decisions
Promotions, transfers, and demotions are usually based on past or anticipated performance. Often promotions are a reward for past performance.
Training and Development Needs
Poor performance may indicate a need for retraining. Likewise, good performance may indicate the untapped potential that should be developed.
Career Planning and Development
Performance feedback guides career decisions about specific career paths one should investigate.
Staffing Process Deficiencies
Good or bad performance implies strengths or weaknesses in the personnel department's staffing procedures.
Informational Inaccuracies
Poor performance may indicate errors in job analysis information, human resource plans, or other parts of the personnel management information system. Reliance on inaccurate information may lead to inappropriate hiring, training, or counseling decisions.
Job-Design Errors
Poor performance may be a symptom of ill-conceived job designs. Appraisals help diagnose these errors.
Equal Employment Opportunity
Accurate performance appraisals that actually measure job-related performance ensure that internal placement decisions are not discriminatory.
External Challenges
Sometimes performance is influenced by factors outside the work environment, such as family, financial, health, or other personal matters. If these factors are uncovered through appraisals, the human resource department may be able to provide assistance.
Feedback to Human Resources
Good or bad performance throughout the organization indicates how well the human resource function is performing.
---
Limitations of Performance Appraisal
The ideal approach to performance evaluation is that in which the evaluator is free from personal biases, prejudices, and idiosyncrasies. This is because when evaluation is objective, it minimizes the potential capricious and dysfunctional behavior of the evaluator which may be detrimental to the achievement of the organizational goals.
However, a single foolproof evaluation method is not available. Inequities in evaluation often destroy the usefulness of the performance system resulting in inaccurate, invalid appraisals, which are unfair too. There are many significant factors that deter or impede objective evaluation. These limitations of performance appraisal are:
Halo Error
It occurs when the rates allow one aspect of a man's character or performance to influence his entire evaluation. It is the tendency of many raters to set their rating to be excessively influenced by one characteristic rather than by all subsequent characteristics.
This problem often occurs with employees who are especially friendly or unfriendly toward the supervisor. For example, an unfriendly employee will often be rated unsatisfactory for all traits rather than just for the trait "gets along well with others". Being aware of this problem is a major step toward avoiding it. Supervisory training can also alleviate the problem.
Central Tendency
Many supervisors have a central tendency when filling in rating scales. For example, if the rating scale ranges from 1 to 7, they tend to avoid the highs (6 and 7) and lows (1 and 2) and rate most of their people between 3 and 5.
If you use a graphic scale, this central tendency could mean that all employees are simply rated "average". Such a restriction can distort the evaluations, making them less useful for promotion, salary, or counseling purposes. Ranking employees instead of using a graphic rating scale can avoid this central tendency problem because all employees must be ranked and this cannot all be rated averages.
Leniency or Strictness
The leniency bias results when raters tend to be easy in evaluating the performance of employees. Such raters see all employee performance as good and rate it favorably. The strictness bias is the opposite; it results from raters being too harsh in their evaluation.
Sometimes, the strictness bias results because the rater wants others to think he or she is a 'tough judge' of people's performance. Both leniency and strictness errors more commonly occur when performance standards are vague.
Cross-Cultural
biases Every rater holds expectations about human behavior that are based on his or her culture. When people are expected to evaluate others from different cultures, they may apply their cultural expectations to someone who has a different set of beliefs or behaviors.
In many Asian cultures, the elderly are treated with greater respect and are held in higher esteem than they are in many Western cultures. If a young worker is asked to rate an older subordinate, this cultural value of "respect and esteem" may bias the rating.
Similarly, in some Arabic cultures, women are expected to play a very subservient role, especially in public. Assertive women may receive biased ratings because of these cross cultural differences. With greater cultural diversity and the movement of employees across international borders, this potential source of bias becomes more likely.
---
FAQs About the Uses of Performance Appraisals
What are the uses of performance appraisals?
The uses of performance appraisals are:
1. Performance Improvement
2. Compensation Adjustments
3. Placement Decisions
4. Training and Development Needs
5. Career Planning and Development
6. Staffing Process Deficiencies
7. Informational Inaccuracies
8. Job-Design Errors
9. Equal Employment Opportunity
10. External Challenges.