What is a Bank Account?
A bank account is a financial account maintained by a bank for a customer. A bank account can be a deposit account, a credit card account, a current account, or any other type of account offered by a financial institution, and represents the funds that a customer has entrusted to the financial institution and from which the customer can make withdrawals.
Alternatively, accounts may be loan accounts in which case the customer owes money to the financial institution. The financial transactions which have occurred within a given period of time on a bank account are reported to the customer on a bank statement and the balance of the accounts at any point in time is the financial position of the customer with the institution.
The laws of each and every country specify the manner in which accounts may be opened and operated. They may specify, for example, who may open an account, how the signatories can identify themselves, deposit and withdrawal limits, and many other matters.
---
Types of Bank Accounts
The main types of bank accounts are explained below: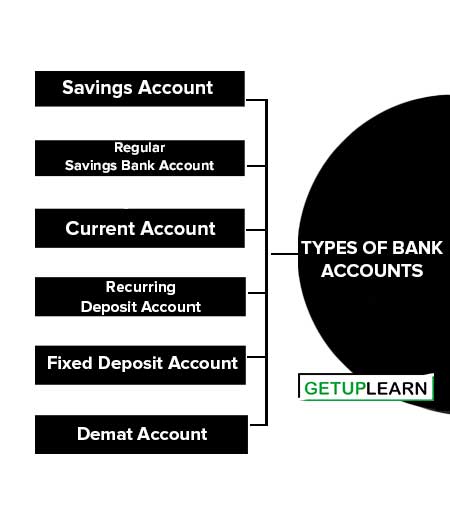 Savings Account
Basic Savings Bank Deposit Accounts (BSBDA)
This account will be considered a normal banking service. For this account, maintenance of the minimum balance is not required. ATM card/ ATM cum Debit card, Rupay card will be given to the account holders. There is going to be no limit on the number of deposits that can be made in a month but, account holders will be allowed most 4 withdrawals in a month, which includes ATM withdrawals also.
The above facilities will be given without any charge. There will be no charge levied for non-operation/ activation of an in-operative basic savings bank deposit account. For this account, an overdraft facility will be provided up to Rs. 5000/-.
Basic Saving Bank Deposit Accounts Small Scheme (BSBDS)
These are accounts with relaxed KYC, with a minimum document requirement of self-attested address proof & photograph. Total credit should not exceed 1Lakh rupees in a year. The maximum balance should not exceed Rs. 50,000/- at any time. Cash withdrawals & transfers must not exceed Rs.10, 000/- in a month.
Remittance from the foreign account cannot be credited to this account without completing normal KYC formalities. This account can be opened only at Core Banking Solution-linked branches of banks or at such branches, where it is possible to manually monitor the fulfillment of the conditions.
Regular Savings Bank Account
Any resident individual- single accounts, two or more individuals in joint accounts, Associations, clubs, etc., are eligible for this account. Modest credit option available to the depositor. Two free checkbooks will be issued per year.
Internet banking facility will be provided without any charge. Balance inquiry, NEFT, Bill payment, Mobile recharge, etc., are provided through mobile phones. Students can open this account with zero balance by providing the required documents.
Current Account
Any resident individual- single accounts, two or more individuals in joint accounts, Associations, Limited companies, Religious Institutions, Educational Institutions, Charitable Institutions, clubs, etc., are eligible for this account.
Payments can be done an unlimited number of times. Funds can be remitted from any part of the country to the corresponding account. An overdraft facility will be available. Internet banking facility is available.
Recurring Deposit Account
Cumulative Deposit Scheme
Any resident individual- single accounts, two or more individuals in joint accounts, Associations, clubs, Institutions/Agencies specifically permitted by the RBI, etc., are eligible to open this account in single/joint names. Periodic/Monthly installments can be for any amount starting from as low as Rs.50/- onwards. The account can be opened for any period ranging from 6 months to 120 months, in multiple of 1 month.
The amount selected for installment at the start of the scheme will be payable every month. The number of installments once fixed, cannot be altered. The approved rate of interest is compounded every quarter.
The amount after maturity will be paid to customers one month after the deposit of the last installment.  A passbook will be given to the depositor. TDS will be applicable on the interest, as per the latest changes in the Income Tax Act on cumulative deposits also.
Fixed Deposit Account
Short Deposit Receipt
Banks accept deposits from customers varying from 7 days to a maximum of 10 years. The period of 7 days & above but not exceeding 179 days of deposits is classified as 'Short Deposits'. The minimum amount that can be deposited under this scheme is Rs. 5 lakhs for a period of 7-14 days.
Fixed Deposit Receipt
Any resident individual- single accounts, two or more individuals in joint accounts, Associations, Minors, societies, clubs, etc., are eligible for this account. The minimum FDR in metro & Urban branches is Rs. 10,000/- & in rural & semi-urban & for Senior citizens is Rs.5000/.
For the subsidy kept under the government-sponsored schemes, Margin money, earnest money & court attached/ordered deposits, minimum amount criteria will not be applicable. Depositors may ask for repayment of their deposits before maturity.
Repayment of the amount before maturity is allowable. The interest rate differs from bank to bank depending upon the tenure of the deposits & when the bank changes the rate. Additional interest of 0.50% is offered for senior citizens on deposits placed for a year & above.
Demat Account
Used to conduct stress-free transactions on the shares. An individual, Non-Resident Indian, Foreign Institutional Investor, Foreign National, Corporate, Trusts, Clearing Houses, Financial institutions, Clearing Member, Mutual Funds, Banks, and Other Depository accounts.
For opening this account, an individual has to fill out a form and submit a photo of the applicant along with a photocopy of their Voter ID/ Passport/ Aadhar card/ Driving License & Demat account number will be provided to the applicant immediately after the completion of processing of the application.
Facilities provided under this account are Opening & maintaining of Demat accounts, Dematerialization, Rematerialization, Purchases, sales, Pledging &Unpledging, and safe custody.
---
FAQs About the Types of Bank Accounts
What are the types of bank accounts?
The following are the types of bank accounts: 1. Savings Account 2. Regular Savings Bank Account 3. Current Account 4. Recurring Deposit Account 5. Fixed Deposit Account 6. Demat Account.