Stages of Internationalization
These are the various stages of internationalization which explained below: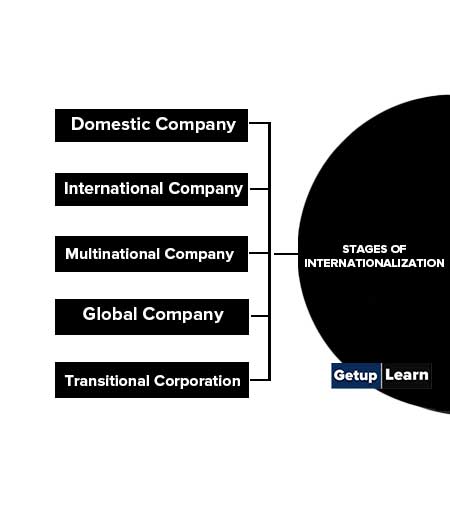 Domestic Company
First Stages of Internationalization: Most international companies have their origin as domestic companies. The orientation of a domestic company essentially is ethnocentric. A purely domestic company operates domestically because it never considers the alternative of going international.
The growing stage-one company, when it reaches growth limits in its primary market, diversifies into new markets, and product technologies instead of focusing on penetrating international markets. However, if factors like domestic market constraints, foreign market prospects, increasing competition, etc.
make the company reorient its strategies to tap foreign market potential, it would be moving to the next stage in the evolution. A domestic company may extend its products to foreign markets by exporting, licensing, and franchising.
The company, however, is primarily domestic and the orientation essentially is ethnocentric. In many instances, at the beginning exporting is indirect.
The company may develop a more serious attitude towards foreign business and move to the next stage of development, i.e., international company.
International Company
Second Stages of Internationalization: International company is normally the second stage in the development of a company towards the transitional corporation. The orientation of the company is basically ethnocentric and the marketing strategy is an extension.
the marketing mix developed for the home market is extended into foreign markets. International companies normally rely on international business.
Multinational Company
Third Stages of Internationalization: When the orientation shifts from ethnocentric to polycentric, the international company becomes multinational. In other words, when a company decides to respond to market differences, it evolves into a stage three multinational that pursues a multi-domestic strategy.
The focus of the stage three company is multinational that pursues a multinational or, in strategic terms, multi-domestic. The marketing strategy of the multidimensional company is adaptation. In multinational companies, each foreign subsidiary is managed as if it were an independent city-state.
The subsidiaries are part of an area structure in which each country is part of a regional organization that reports to the world headquarters.
Global Company
Fourth Stages of Internationalization: The global company will have either a global marketing strategy or a global sourcing strategy but not both. It will either focus on global markets and source from the home or a single country to supply these markets, or it will focus on the domestic market and source from the world to supply its domestic channel.
However, according to the interpretation of some others, all strategies for product development, product marketing, etc. will be global in respect of the global corporation.
Transitional Corporation
Fifth Stages of Internationalization: The transitional corporation is much more than a company with sales, investments, and operations in many countries. This company, which is increasingly dominating markets and industries around the world, is an integrated world enterprise that links global resources with global markets at a profit.
Characteristics of a Transnational Corporation
Geocentric orientation.

Thinks globally and acts locally.

Global strategy but allows value addition to the customer.

Allows adaptation to add value to its global offer.

Assets are distributed throughout the world.

Independent and specialized.

R&D integrated.

Production spread but specialized and integrated.
---
International Marketing Orientations
According to Douglas Wind and Perlmutter, these are the four international marketing orientations: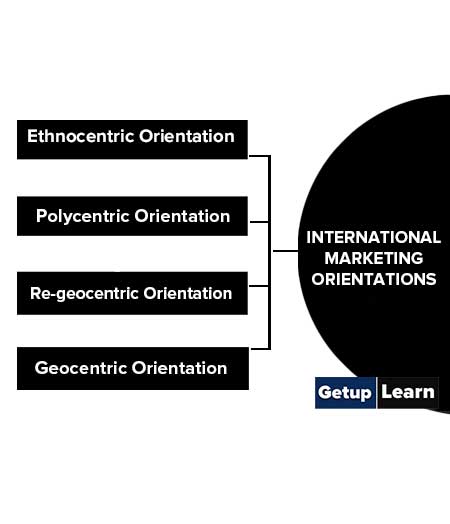 Ethnocentric Orientation
A person who assumes his or her home country is superior compared to the rest of the world is said to have an ethnocentric orientation. The ethnocentric orientation means company personnel see only similarities in markets and assume the products and practices that succeeded in the home country will, due to their demonstrated superiority, be successful anywhere.
At some companies, the ethnocentric orientation means that opportunities outside the home country are ignored. Such companies are sometimes called domestic companies. Ethnocentric companies that do conduct business outside the home country can be described as international companies.
they adhere to the notion that the products that succeed in the home country are superior and, therefore, can be sold everywhere without adaptation.
The home country practice prevails with this approach. Headquarters from the home country make key decisions, employees from the home country hold important jobs, and the subsidiaries follow the home country resource management practice.
Features of Ethnocentric Orientation
Exports.

Foreign market extension of domestic markets.

Domestic companies formulate strategies.

Export department product design and operations.
Polycentric Orientation
The polycentric orientation is the opposite of ethnocentrism. The term polycentric describes management's often-unconscious belief or assumption that each country in which a company does business is unique. This assumption lays the groundwork for each subsidiary
to develop its own unique business and marketing strategies in order to subsidiary to develop its own unique business and marketing strategies in order to succeed. Each subsidiary manages on a local basis. A local employee heads a subsidiary because headquarters managers are not considered to have adequate local knowledge. Subsidiaries usually develop human resource management practices locally.
Features of Polycentric Orientation
The later stage of the ethnocentric approach for domestic companies.

Foreign subsidiary with CEO.

Decentralization of operations.

Delegation of decision-making (including major decisions).

Appointments from home countries (key personnel).

Re-geocentric Orientation
The company has expanded its search beyond the borders of the host country but has stopped short of seeking management personnel from its operations throughout the world. The theory behind this selection process is that nationals of the region
in which operations actually take place are better able to deal with language and cultural problems than managers from outside the region. The logic behind this hiring approach is probably sound, but it ignores the potential growth
a manager goes through when forced to deal with different situations than those in which he or she is comfortable.
Features of Re-geocentric Orientation
Extension from a single country to too many countries.

Foreign subsidiaries consider the regional environment, e.g., Africa, Asia, or South East Asia.

Policies and strategies are based on the regional environment.

Production design could be the same but marketing strategies invariably vary.
Geocentric Orientation
The company that applies the globally integrated business strategy manages and staffs employees on a global basis. For example, Electrolux (the vacuum cleaner company) has for many years attempted to recruit and develop a group of international managers from diverse countries.
These people constitute a mobile base of managers who are used in a variety of facilities as the need arises.
Features of Geocentric Orientation
The entire world is treated like a country.

Select employees from the entire globe.

Operate with a number of subsidiaries.

Coordination of activities at headquarters.
---
Types of International Marketing
The types of international marketing are as follows: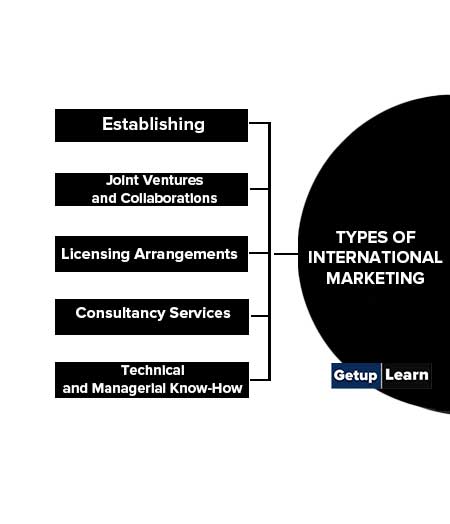 Establishing
A branch in the foreign market for processing, packaging, or assembling the goods according to the needs of the markets. Sometimes, complete manufacturing is carried out by the branch through direct investments.
Joint Ventures and Collaborations
International marketing includes establishing joint ventures and collaboration in foreign countries with some foreign firms for manufacturing and/or marketing the product. Under these arrangements, the company works in collaboration with foreign firms in order to exploit foreign markets.
Licensing Arrangements
The company, under the system, establishes licensing arrangements with the foreign term whereby foreign enterprises are granted the right to use the exporting company's know-how, viz., patents, processes or trademarks according to the terms of agreement with or without financial investment.
Consultancy Services
Offering consultancy services is also covered in the international marketing scope. The exporting company offers consultancy services by undertaking turnkey projects in foreign countries. For this purpose, the exporting company sends its consultants and experts in foreign countries who guide and direct the manufacturing activities on the spot.
Technical and Managerial Know-How
The scope of international marketing also includes the technical and managerial know-how provided by the exporting company to the importing company. The technicians and managerial personnel of the exporting company guide and train the technicians and managers of the importing company.
---
Difference Between Domestic and International Marketing
Let's discuss the difference between domestic and international marketing:
Domestic Marketing
Domestic marketing refers to carrying out marketing activities within national boundaries.
It refers to doing marketing in the local market and its scope is limited.


There is one nation, the same language, and one culture.


In domestic marketing, only one currency is used.


Controlling domestic marketing activities is easy compared to international marketing.


Well, familiarity with the domestic or local market.


Low-risk factors are associated with domestic marketing.


Domestic marketing requires less investment as compared to international marketing.


Mostly, there is a stable business environment.


It relatively deals with a homogeneous market.


In domestic marketing, competitors' behaviour is easy to predict.
International Marketing
International marketing refers to carrying out marketing activities outside national boundaries also.


It refers to doing marketing in the global market and its scope is wide.


There are many nations, many languages, and cultures.


In international marketing, different currencies are used.


Controlling international marketing is difficult as compared to domestic marketing.


Lack of familiarity with global or foreign markets.


Whereas more risk factors are associated with international marketing.


International marketing requires more investment as compared to domestic marketing.


Mostly, there is an unstable business environment. It relatively deals with a diverse market.


In international marketing, competitor behaviour is difficult to predict.
---
FAQ Related to International Marketing
What are the stages of internationalization?
The following are the stages of internationalization:
1. Domestic Company
2. International Company
3. Multinational Company
4. Global Company
5. Transitional Corporation.
What are the types of international marketing?
The following are the types of international marketing:
1. Establishing
2. Joint Ventures and Collaborations
3. Licensing Arrangements
4. Consultancy Services
5. Technical and Managerial Know-How.