Types of Folk Media
These are a variety of types of folk media which are as follows: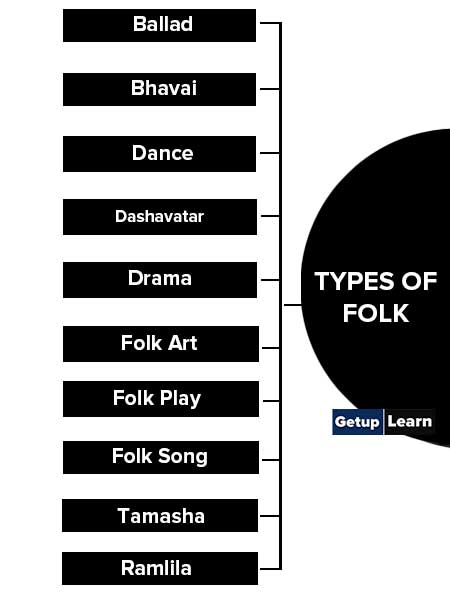 Ballad
The Ballad is a specific form of dance and a powerful vehicle for converting the rural minds, thoughts, and attitudes towards an improved and positive direction. Ballads like Lavine of Maharastra, Garba of Gujarat, Gee-Gee of Karnataka, Kabigaur of West Bengal, and Villupatta of Tamilnadu became pivotal and frontal.
They played extremely vital roles in changing the rural minds to the importance of social or political themes like social justice, public welfare, national unity, women empowerment, cultural heritage, etc. The origin of the message of the above ballads is replaced by different messages to suit the need of the hour and conformity of the place. No doubt, this gave impetus, timeliness, functional relevance, and importance.
Bhavai
Bhavai is a kind of folk drama that relates to North Gujrat. It is a creative, colorful, and vigorous form of folk dance. It is a purely religious and developmental folk dance that is performed spiritually before the Goddess Ambaji for eradicating illusion, ignorance, and darkness all around.
Bhavai mainly represents three categories: Pauranic (based on very old Hindi religious books), historical and social. And it has three principal characters: Nayak, Rangla, and Rangli. Nayak is the main computer also called Sutradhar or Manager. Rangoli is the Jester of a clown, whereas Rangli is their helpmate of Rangla in order to check and control whether he keeps on track.
Dance
Dance is a creative performing art that constitutes various systematic sequences of body movements. In this, the whole body movement is synchronized in such a manner that it becomes an effective message. This entire body movement has aesthetic and symbolic value and is considered a dance by performers and observers in a particular society and culture.
Dashavatar
Dashavatar is a religious folk theatre form of South Konkan. In fact, it is a Konkani variation, vibration, and modulation of the Yakshagaan of Karnataka. This is a re-enactment of ten incarnations of Lord Vishnu and the detailed story of the lord and his profound devotees. Dashavatar is usually performed within the premises of a temple. This is because it is regarded as an act of worship.
Drama
Drama is a creative art for the entertainment and recreation of the people. It is based on a certain story. So it is properly and sequentially scripted. Drama is mainly of three types:
Dance-Centric Drama: It is primarily dance-oriented. The dance is dramatized in such a way that it gives an effective message in the form of infotainment or edutainment orinfoedutainment. For example, Videsiya, Keertaniya, etc.


Music-Centric Drama: It is mainly music-focussed. The music is presented in the form of a drama in such a manner that it gives an appeal in the form of infotainment, or edutainment or infotainment. For example, Tamasha, Shekhawati, etc.


Swang-Centric Drama: It is a rare combination of swang and drama. Here the drama is presented with the help of a swang with a view to giving an effective message in the form of infotainment, edutainment, infotainment, etc. For example: Nakal, Bharat, Bahuripiya, etc.
Hence, dance, in different forms, informs and educates with the help of entertainment and recreation. It also convinces and persuades the people on some specific issue indirectly or in a round-about way. It indirectly persuades with the help of historical, religious, social, and humorous dances.
In these dances, the soul of our Indianess lives and if our traditional dance media is properly promoted, then Indian people can easily say goodbye to the western obscene and vulgar presentations. Overall, it encompasses the complete inner personality of the villagers.
Folk Art
It is a specific form of creative art that is often performed on the auspicious occasion of 'Laxmipuja', 'RakshaBandhan', 'Devothani', 'Ekadashi'. In this folk art, innovative and creative picturization is performed. Artistic picturization on walls of an institution or roads (especially 'Chauraha' or 'panchraha') is all glaring examples of folk art as these are the signs and symbols of our Indian culture and heritage.
Yet other examples are picturization with the help of 'cow-dunk' on the occasion of 'govardhanpuja'. Creative tattoos on our bodies are yet another example. There is so much folk music in India of which 'Baul' and 'Bhatiali' of West Bengal, 'Doha" of Gujarat ,'Chaiti'and 'Kajri' of UP, 'KarkalliPattus' of Kerala, 'Bihu'of Assam, 'Mand' and 'Panihari' of Rajasthan 'Rauf&Chakri' of Kashmir, 'Sua' and 'Dadaria' of MP, Mando& 'Dhalo' of Goa and 'Boli' of Punjab is the most popular one.
Folk Play
Folk play is yet another means of entertainment and recreation. For example, the dance of 'Bandar-bandari', 'Bear-dance', 'Snakes- show', 'Rope-walking' of movement of a boy or a girl across the burning tire. It also includes 'Shadow- play', 'Music- show' etc.
Folk Song
A folk song is a song composed and written by the folk sung by the folk and listened to by the folk. It is a musical form of communication. It belongs to each and every region in different forms. It is sung on specific occasions and festivals. These songs uniquely strengthen and invigorate the sense of socialization, and social democracy and prove to be instrumental in fostering mutual understanding among the regional language states.
For instance, folk songs pertaining to harvest can carry new senses like the use of fertilizer and preservation of food grains and innovative themes like an improved and modified method of cultivation. In the words of a noted communication expert S.K.Panigraphy, "Attitudes which have been inherited as part of the tradition and are unamendable to change, could be modified by pressing into service, the folk songs of the region.
Another communication expert ShyamParmar aptly remarks, "The national movement led by the Congress and Mahatma Gandhi also left its imprints on hundreds of folk songs. History reveals the fact that in times of war and political upsurge, purposeful messages evolved within the format of popular musical styles, and have been used to boost up the morale of the soldiers and mobilize the workers and peasants in their vigorous creative expression of the leftist movement in India."
Folk Tales and Riddles
Folk tales are popular tales that are either in oral form or in written form. It is transferred from one generation to the other. These are of six types. (a) Preaching Tales, (b) Fast Tales, (c) Love Tales, (d) Amusement Tales, (e) Social Tales, (f) Mythological Tales.
All these tales have the following characteristics:
Touch of love.
Feeling of love.
Priority of mystery, thrill, and supernaturalism.
The simplicity of description.
End of the tale by chance.
Combination of dutifulness and fatism.
Excess of presentation of nature.
On the other hand, folk riddles are expressed with the help of proverbs, sayings, and riddles. A lot of popular riddles are found in Mahabharat and the Jataka tales. A very general type is the 'kenning' among the tribals of Madhya Pradesh. This type is used in talking about taboos or dangerous objects. For, example, a tiger is considered to be the hornless bullock when talked about the night.
Jatra
Jatra is a folk theatre of eastern India, especially in West Bengal and Odhisa. It generally relates to the lives of 'Krishna' and 'Radha'. It has turned out to be successful in propagating the 'Bhakti' cult and later the 'Shakta' cult.
Noted film star UtpalDutt has used the 'Jatra' in his plays for political education. It is presently attracting a lot of attention as a tool of non-formal education in developing countries like India. Hence, it brings a community together and creates an environment of cooperative thought and action.
Keertan
Keertan is a type of monodrama or a concentrated drama. The ancient Saint, Maharshi, and DevarshiNarad are believed to have practiced and invented this form. It is also called Harikatha or Harikeertan and is believed to have spread from Maharastra to Karnataka and Karnataka to Tamilnadu.
It is associated with the bhakti movement in religion and spiritualism. Keertan has been frequently used and performed by saints like Kabir and Tukaram for the teaching of Hinduism and also to bring about social changes and political reforms. Three types of Keertan are popular in India: (a)Naradiya Harikatha (b) Warkari Harikatha (c) Nationalalist Harikatha.
The latest one that is Nationalist Harikatha is often used by the central and state governments to educate the people on national integration, democratic values, family planning, and developmental activities with the help and support of Keertankars.
Nautanki
Nautanki is a folk theatre of North India which is generally performed in an open space. It is basically a dramatic format of small units linked by a 'Sutradhar'. Its central idea is based on ancient epics and from folklore like the tale of Laila and Majnu or the gallant performance of Amal Singh, Rathod, and Sultana Daku. Music plays a pivotal role in this folk drama.
It gives acceleration and pace to Nautanki. Dholak and 'kettle drum' further add to their vigor and intensity. For example, Ghazal, Qawwali, Thumri, Dara, Sher, BahertabilChaubola, Doha, etc. These forms of Nautanki are performed for social, cultural, economic, religious, spiritual, and political comments on contemporary issues, events, and leaders.
Powada
Powada is a Maharashtrian folk ballad form that came to the light in the mid-16th century. Basically, it is dramatic in its nature and character and relates to the tales of issues and events of history. It is based on dramatic gestures and postures, narrating the gallant and heroic performance.
Puppetry
Puppetry is a dramatic depiction with the help of creatures called puppets. At present, it is gaining importance as a means of educational communication. It is one of the oldest types of folk medium in India. There are four types of puppetry:
String Puppetry: In this type, puppets are controlled with the help of a long string. It is manipulated, guided, and governed by an artist. This is very popular in states like Andhra Pradesh, Karnataka, Odisha, Rajasthan, and Tamil Nadu.


Rod Puppetry: This form of puppetry is the most popular depiction in West Bengal called 'PutulNauch'. This is large in size and dimension and is fixed to heavy bamboo sticks which are tied to the artist's waist. Artist controls and manipulates it with utmost care. This type of puppetry is also very popular in Japan and European countries.


Shadow Puppetry: Shadow puppetry is called 'Chhaya Putti'. It is a dramatic expression depicted on a screen or wall with the help of shadow. It is very popular in Andhra Pradesh (known as ThohuBommallutta), Karnataka (TogaluCombe Atta), Kerla (TholpovaKoothu), and Odisha (RavanChhaya).


Glove Puppetry: Glove puppetry is also called 'Hand Puppetry' which is very popular in Odisha, Kerala, and Tamil Nadu. It is controlled and manipulated with the help of a glove and hand. It is manipulated with the help of the first finger fitted into the hollow head and thumb and the middle finger fitted into the hollow hand of puppets.
Ramlila
Ramlila relatesto the folk drama on the life of lord Ram. It refers to the thousands of Ram-related dramatic songs, dances, plays, and theatres that are performed during Navratri and Ram Navmi in India. It also depicts 'RavanBaddh' indicating the victory of good over evil.
Ram is the seventh avatar and the central figure of the epic Ramayan. Hence, Ramlila clusters around the life history of Ram which is enjoyed by the Indian people in a religious and spiritual manner.
Raslila
Raslila relates to the folk drama of the romantic life of lord Krishna. It refers to Krishna's romance related to dramatic songs, dance, plays, and theatres that are performed during Janmashtami. Lord Krishna is the eighth avatar of Lord Vishnu (Also described as the next avatar of lord Ram) and is the central figure of the epic Mahabharat. It has a lot of cultural, social, religious, and spiritual importance in India.
Swang
Swang is a type of folk drama that constitutes a rare combination of music, dance, and poetry. There is no need for a specific stage in a theatre. But Swang has performed anywhere under the open sky. The audience may be scattered on the floor or a field or a 'Chabutra' or sometimes even on the branches of trees.
Tamasha
Tamasha is a folk theatre of Maharastra. It is an extremely lively and popular means of entertainment. The most important and well-known patron of this theatre was Bajirao-II, the last of the Peshwas, who introduced professional female singers into it for the first time.
It starts with a prayer called Gana to Ganesh, followed by a gualan, a milkmaid scene in which lusty dances, songs, and sketches about lord Krishna and his several sweet Gopies are performed. It doesn't require a big stage. The artists in this act just wear simple and traditional Maharashtrian dresses.
---