What is Product Line?
A product line is a group of closely related products because they perform a similar function, are targeted at the same customer groups, and are marketed through the same channels.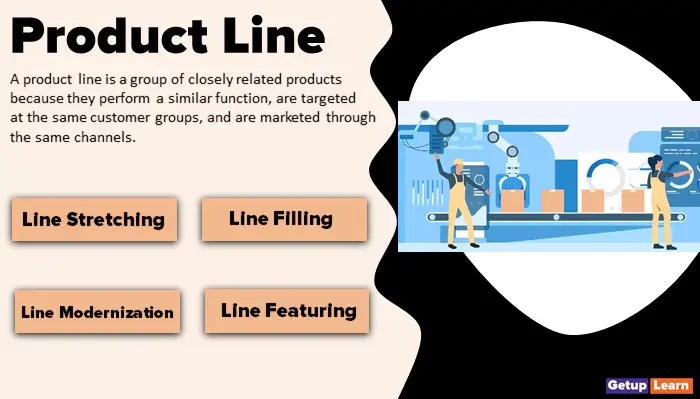 Product Line
The essential attributes associated with the product line are discussed below: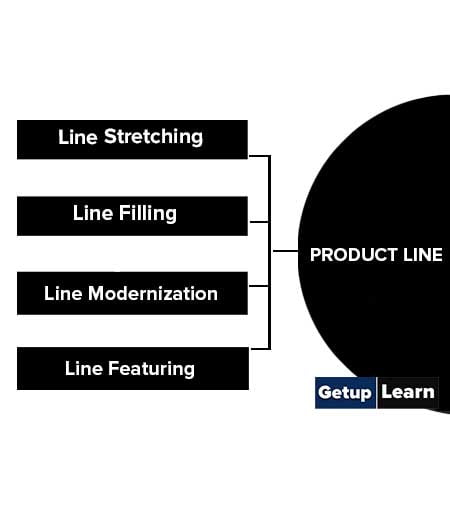 Line Stretching
Decisions pertaining to a line stretching are taken whenever the marketer feels he can increase his profits by either adding or dropping items from the line. It can be upwards, downwards, or both ways.
A downward stretch takes place when the company finds that its offerings are at the high price end of the market and then stretches its line downwards. For example, P & G's Ariel detergent began at the premium end, and then the down-market Ariel bar was introduced to tap the lower segment.
Conversely, an upward stretch occurs when a company enters the upper end through a line extension. The reasons for this may be a higher growth rate, better margins, or simply a wish to be a full-line marketer.
An example of a successful upward stretch would be that of Lifebuoy, which started from hygienic bath soap for the masses to a premium quality liquid hand washes for the higher strata of society. Throughout this stretch, the brand had used hygiene as its core benefit, so that there was no dissonance in the minds of consumers.
Line Filling
A product line can also be lengthened by adding more items within the present product range. There are several reasons for line filling.
Reaching for incremental profits.

Trying to satisfy dealers who complain about lost sales because of missing items on the line.

Trying to utilize excess capacity.

Trying to offer a full line of the product.

Trying to plug holes in the positioning map.
The launch of Cinthol, in different variants, is an example of line filling. Today Cinthol is a lime-soap with yellow packaging and a cologne variation with blue wrapping apart from the initial Cinthol fresh. There is also a Cinthol International, packed in a red pack with a picture of mountains depicting freshness.
The company needs to differentiate each item in the consumer's mind. For this, each item must possess a difference that sets it apart from the others.
Line Modernization
Even when the product line length is adequate, the line might need to be modernized. The issue is whether to overhaul the line completely or one at a time. A piecemeal approach allows the company to see how customers and dealers react to the new style.
Piecemeal modernization is less of a drain on the company's cash flow. A major disadvantage of piecemeal modernization is that it allows competitors to see changes and start redesigning their own lines. In the rapidly changing market, product modernization is carried out continuously.
Because competitors are constantly upgrading their options, each company must redesign its own offering. A company would like to upgrade customers to higher-valued, higher-priced items.
A major issue is the timing of the product line improvements so that they do not happen too early and damage the sales of their current product line, or come out too late so that the competitors can establish a strong foothold.
Line Featuring
In the case of durable products, marketers at times select one or a few items to "feature". The idea is to attract consumers into the showrooms and then try to get them exposed to other models. At times, the marketer will feature a high-end item to lend prestige to the product line.
These products act as "flagships" to enhance the whole line. Sometimes a company finds one end of its line selling well and the other poorly. The company may try to boost the demand for slow-moving items, especially if they are produced in a factory that is lying idle due to the lack of demand.
---
Managing Product Line Extension
There are several factors that can explain why so many companies have pursued line extensions as their marketing strategies. These are being discussed as under: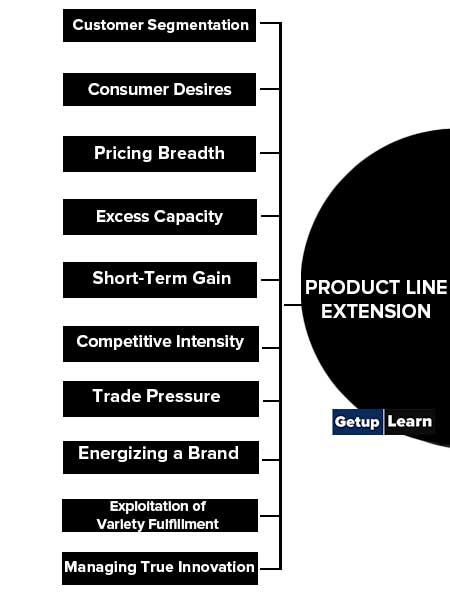 Customer Segmentation
Managers perceive line extensions as a low-cost, low-risk way to meet the needs of various customer segments and by using more sophisticated and lower-cost market research and direct marketing techniques, they can identify and target finer segments more effectively than ever before.
In addition, the quality of audience profile information for television, radio, and print media has improved; managers can now translate complex segmentation schemes into effective advertising plans.
Consumer Desires
Consumers are switching brands and trying products they have never used before. Line extensions try to satisfy the desire for "something different" by providing a wide variety of products under a single umbrella. Such extensions, companies hope, fulfill customer desires while keeping them loyal to the brand franchise.
The Gujarat Milk Marketing Federation launched a host of milk-based products under the brand name Amul. Similarly, SmithKline Beecham made an entry into the faster-growing brown beverages segment with its Chocolate Horlicks brand to counter the established Cadbury's brand Bournvita.
Line extensions can help a brand increase its share of shelf space, thus gaining higher visibility and attracting consumer attention. When marketers coordinate the packaging and labeling across all items in a brand line
They can achieve an attention-getting billboard effect on the store shelf or the display stand and thus leverage the brand's equity. However, building enough volumes to offset the additional costs required for such an extension is also necessary.
Pricing Breadth
Marketers often extend the line on the superior quality platform and set higher prices for the new offering than their core items. In markets subject to slow volume growth, marketers can increase unit profitability by attracting current customers to move up to the "premium" products.
In this way, a marketer also lends "prestige" to its product line. Similarly, some line extensions are priced lower than the lead product.
For example, American Express offers its Optima card for a lower annual fee than its standard card. Extensions give marketers the opportunity to offer a broader range of price points in order to capture a wider audience, and thereby serve as "volume builders".
Excess Capacity
On some occasions, companies added new product lines to make use of their excess capacity or to improve efficiency and the quality of existing products. In fact, excess capacity encourages the introduction of line extension that requires only minor adaptations to current products.
Short-Term Gain
Line extensions offer the most inexpensive and least imaginative way to increase sales quickly. The development time and costs of line extensions are far more predictable than they are for altogether new products.
In fact, few brand managers are willing to spend the time or assume the career risk of introducing new products in this crossed market.
Competitive Intensity
Mindful of the link between market share and profitability, managers often see extensions as a short-term competitive device that increases a brand's control over limited retail shelf space and, if overall demand for the category can be expanded, also increases the space available to the entire category.
Trade Pressure
The proliferation of retail channels for consumer products compels marketers to offer broad and varied product lines. Retailers object to the proliferation of marginally differentiated and "me too" line extensions of additional stock-keeping units (SKU).
They, instead, demand special package sizes to meet their specific customer demand (for example, bulk packages or multi-packs of low-price variety) or derivative models that impede comparison shopping by consumers.
Energizing a Brand
A line extension can be an effective way to make a brand more relevant, interesting, and visible. In doing so, it can create a basis for differentiation, build the audience for the advertising of an old brand (though the brand may be healthy), and stimulate sales.
This would give new as well as old customers sufficient reason to buy the brand.
Exploitation of Variety Fulfillment
A brand may be stretched across multiple product categories to take advantage of a common and important consumer benefit existing in both, the products and the consumer perceptions.
This is the common benefit of the exploitation strategy which ensures that sales in the other categories do not affect the parent brand. Line extensions can also increase a brand's consumer share of requirements within a given product category.
Expanding a Brand's Core Promise to New Users
A brand may have a strong image that promotes loyalty and exclusiveness. A line extension can extend that promise. In fact, line extensions can perform the role of continually improving the core brand. Intelligent line extensions may be used as means to attract users who buy multiple brands.
Managing True Innovation
A line extension is an effective way to foster and manage true innovation, thereby enhancing the value proposition, expanding the usage contexts, and blocking competitive entry.
Blocking or Inhibiting Competitors
Although niche markets may represent marginal businesses, they may strategically represent important footholds for competitors. Line extensions have the potential of inhibiting or neutralizing moves by competitors.
Failure to see this aspect may result in adverse consequences for market leaders, as can be seen from what happened to companies like Tomco, Calcutta Chemicals, etc. who permitted new companies to gain a toehold in their respective industries.
Managing a Dynamic Environment
Line extensions provide a way to survive in an environment full of ambiguities and transitory signals and forces.
If the company does not extend its line it may face the risk that if a segment is created corresponding to the "new" product, such a segment may be a precursor to a larger trend that, if ignored, might generate a strategically altered landscape with a first-mover competitor holding a considerable advantage.
Testing Ground for National Launch
Product line extensions can also be effective ways to test-market product improvements and at the same time enter emerging segments. Thus, logic seems to be on the rise for any new launch to assess the pulse of the market in a competitive environment.
---
FAQ Related to Product Line
What is product line types?
Product line: A group of products that are closely related and sold through same kind of outlets.
1. Line Stretching
2. Line Filling
3. Line Modernization
4. Line Featuring.
What is product line extension?
Managing product line extension are:
1. Customer Segmentation
2. Consumer Desires
3. Pricing Breadth
4. Excess Capacity
5. Short-Term Gain
6. Competitive Intensity
7. Trade Pressure
8. Energizing a Brand
9. Exploitation of Variety Fulfillment
10. Expanding a Brand's Core Promise to New Users.