Different Styles of Business Letters
There are several styles that are used for writing business letters. Choosing a particular style is a matter of individual taste and preference. If your firm has already chosen a style, use that. But in case you get an opportunity to select the style of your choice, choose one that suits you best.
These are the different styles of business letters: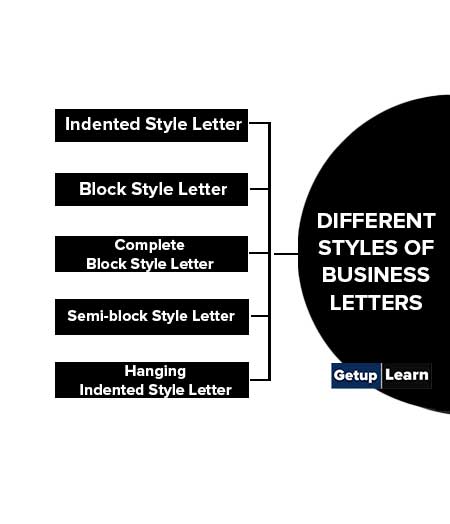 Indented Style Letter
This is perhaps the oldest form of a business letter. In it, each new element is indented two to four spaces. Generally, closed punctuation is used in this style. It requires more time to type, but those who advocate this style say that the pleasing form it presents more than compensates for the extra time and energy spent.
Ratan Tata Trading Company Limited
43-A, Mathura Road, New Delhi–110091
11 September, 2022

The United Commercial Bank Limited,
133, Mahatma Gandhi Road,
New Delhi–110004

Dear Sir,

Please refer to your letter No. C-BC/43 of 4 September, 2022.

We are grateful that you have agreed to advance a sum of Rs. 20,000/- (Rupees Twenty Thousand only). The terms and conditions you mention are acceptable to us. We shall send our Accounts Officer to sign the agreement at 11 a.m. on Monday, 16 September, 2003 as you suggest.


Yours faithfully
A.S. Wilku
Secretary
ASB/lg
Indented Style Letter
Block Style Letter
In this style the date line, the complimentary close, and the signature are aligned with the right margin; all other parts except the letterhead are set flush left. Divisions between the parts and between the paragraphs of the body of the letter are indicated by double spacing whereas, there is single spacing within each part and paragraph.
This style saves stenographic time inasmuch as most of the parts and all the paragraphs are aligned with the left margin and so not much time is lost in indentation.
TATA ALUMINIUM CORPORATION
303, Jahangir Road,
Ahmedabad–380003
10 July, 2022
Your Reference: Letter No. 43-PA of 4 July
Our Reference: POC-30U

The General Manager,
Shahi Cements Company Limited,
Sarangpura,
Ghaziabad- 201001

Dear Sir,
I regret to inform you that out of 500 bags of cement you supplied, 25 have arrived in damaged condition. They cannot be used at all in construction work. It appears the damage was caused due to inadequate protection against rains. Our storekeeper pointed this out to the truck driver immediately after unloading and he has given a signed note, accepting this position. I am enclosing this note for your information.

I shall be grateful if you kindly make the necessary adjustments to the bill. If,
however, you are making supplies for someone else in this city in the near
future, you may send us the replacement.
Yours faithfully
Rahul Khanna
Purchase Office
Ank/lg
Block Style Letter
Complete Block Style Letter
All parts of the letter, except the printed letterhead, are aligned with the left margin. A letter in this form saves more time because indentation is not required for any part. But some correspondents do not like it because it appears imbalanced and heavy on the left side.
ARORA ENGINEERING WORKS
5/44, Bhagat Singh Marg, Ludhiana-141 00 1
10 July, 2006
The Financial Manager,
National Development Corporation,
22, Mahatma Gandhi Road,
Mumbai – 400 055

Dear Sir,

Thank you for your letter No. TR-43/30008 of 5 July, 2006. Your cheque No. P4387cf 4 September, 2006 is for Rs.1959.00 whereas our Bill No. KLW 10057 of 20 June, 2006 was for Rs.1995.00. It appears to be a copying mistake; the writer of the cheques has reversed the last two digits.

I am sorry to bother you with a small amount but you will appreciate that we have to account for the goods supplied. I, therefore, hope you will not mind sending another cheque for the correct amount. I am returning your cheque No. P4387.

Yours faithfully,
B.C. Menon
Materials Manager
BCT/lg
Encl.: I
Complete Block Style Letter
Semi-block Style Letter
This is like the block style except that the paragraphs of the letter are indented. Those who use it say that it is easier to read paragraphs that begin with an indented line because one is used to seeing this style in print.
Pardeep and Company
Lushai Hills, Silchar- 78800
10 July, 2008
The Personal Manager
Fit Milkfood Manufacturers Limited,
Bhasker Road, New Delhi- 110003.

Dear Sir,

Please refer to your letter No. P-483/7 of 6 July, 2008.

Sri T.N. Parulkar was in our employees as an Assistant Accountant from 10 June, 2006 to 30 June, 2007. He resigned from the post as the climate of this town did not suit him. He was sincere, hardworking, and efficient and we found him loyal in all circumstances. In fact, we are considering promoting him when he left. We, therefore, think him suitable for the post of Accountant for which you are considering him.

Yours faithfully,
Pardeep and Company
P.K. Tyagi
Managing Director
PKT: lg
Semi-block Style Letter
Hanging Indented Style Letter
This style is like the block style except that the first line of each paragraph is aligned with the left margin whereas, all other lines in each paragraph are indented four or five spaces. Its appearance is unusual and may perhaps catch attention quickly but this fact could be a disadvantage as well.
It may distract the reader by focusing his attention on the form rather than the message of the letter. Since this form involves many indentations, typing consumes a lot more time. Therefore, this style was never popular in the world of business.
Ranjeet Industries Limited
Bombay Road,
Gurdaspur-143521
10 July, 2004
The Purchase Officer,
Sally Exporters Limited,
20A, Feroze Shah Marg,
New Delhi – 110030

Dear Sir,

We hope by now you have gone through the catalog of toys we sent you on 28 June, 2004. As you will have seen, there are a number of new toys in this year's catalog. These are meant not only to delight but also to instruct children by demanding the use of a high degree of intelligence even while they play. We especially draw your attention to the asterisked items on pages 4 and 7. These are likely to become popular in the countries to which you have been exporting.

Kindly let us know your requirements so that we may set aside toys of your choice. Upon receipt of your order, we shall send them to you on last year's terms and conditions. A copy of the statement showing these is enclosed for your ready reference.
Yours faithfully,
Manager (Marketing)
KS: lg
Encl: I
Hanging Indented Style Letter
---
FAQ Related to Different Styles of Business Letters
What are different styles of letter writing?
Different Styles of Business Letters:
1. Indented Style Letter
2. Block Style Letter
3. Complete Block Style Letter
4. Semi-block Style Letter
5. Hanging Indented Style Letter.